Happy Hour: Pink Torpedoes Inspired by a cocktail class I recently attended, I decided to make my own strawberry-infused vodka. The technique is simple: all you have to do is slice a bunch of strawberries and combine them with the vodka and a little sugar. Then you let it sit for a couple of days until the vodka has a vibrant pink color. Unlike store-bought-infused vodkas, this homemade variation has a sweet-tart berry flavor that's neither syrupy or cloying. Once the vodka is ready, you can sip it solo or make a pink torpedo like I did.
This fizzy-girlie drink combines the vodka with limoncello and sparkling wine. If you don't have sparkling wine, you can substitute sparkling water. It's a fabulously refreshing concoction perfect for enjoying on a warm afternoon. To look at the recipe,
.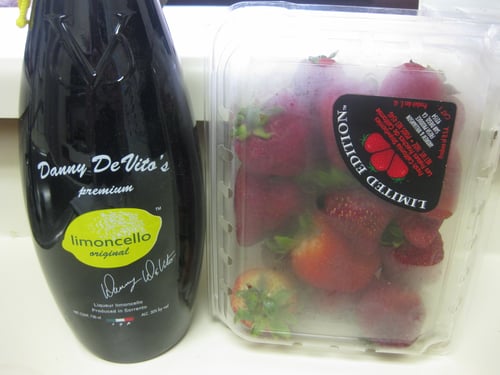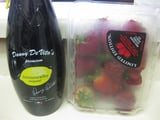 Ingredients
2 cups vodka, chilled
1 1/2 pints strawberries, hulled and sliced
2 teaspoons granulated sugar
Limoncello
One 750-ml bottle sparkling wine or sparkling water, chilled
Directions
In a large bowl, stir together the vodka, two-thirds of the sliced strawberries and the granulated sugar. Cover with plastic wrap and let stand at room temperature until the vodka turns pink, about 6 hours. Refrigerate overnight or up to 3 days.
Fill 6 glasses with ice. Strain the vodka and divide among 6 tall glasses.
Add a splash of limoncello to each glass and top off with the sparkling wine or sparkling water. Garnish with the remaining strawberry slices.
Makes 6 drinks.
Information
Category

Drinks, Cocktails