Happy Hour: Raspberry-Chocolate Kiss Cocktail I consider myself a party chameleon; I can have fabulous fun at any party from a hippie hangout in the Berkeley hills to a swanky soirée on a Manhattan rooftop. I apply the same open-minded mentality to cocktails. While there is a time and place for a whiskey-laced Sazerac, there is also a suitable occasion for this frilly pink concoction. It's served in a rimmed martini glass and known as a raspberry-chocolate kiss.
Valentine's Day is the opportune time for this sort of sweet, girlie drink. It has a chocolate wafer-cookie rim and fresh raspberry flavor. A simple syrup infused with mint provides a delicate herbal essence to the delightfully fruity mixture. If you enjoy cosmopolitans, you'll love this drink.
I sipped the spirit-lifting libation after a long day and trust me — it's the perfect cure to the single girl Valentine's Day blues. To look at the recipe,
.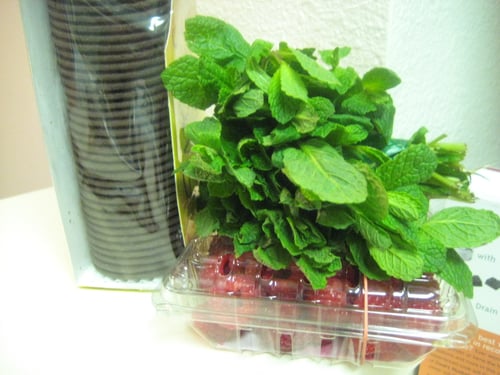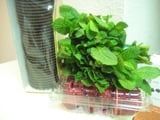 Ingredients
1/4 cup Mint-Infused Simple Syrup, plus more for rim (recipe below)
3 chocolate cookies, finely crushed, such as Nabisco Famous Wafers
10 raspberries
1/4 cup vodka
2 tablespoons cranberry juice
Ice cubes
Directions
Fill a shallow dish with enough simple syrup to just cover the bottom. Place crushed cookies into another shallow dish. Invert a martini glass into simple syrup and then immediately into crushed cookies to coat the rim of the glass.
Place raspberries in a cocktail shaker; crush with a muddler.
Add simple syrup and muddle again.
Add vodka and cranberry juice; fill shaker with ice. Shake well until chilled. Strain into prepared martini glass. Serve immediately.
Makes 1 drink.
1 cup sugar
1 cup water
Stems from 1 bunch of fresh mint
In a small saucepan, combine sugar, 1 cup water, and mint stems. Place over medium heat, and cook, stirring occasionally, until sugar is dissolved.
Remove from heat; let cool. Strain through a sieve. Syrup can be stored in an airtight container in the refrigerator for about 2 weeks.
Makes 1 1/2 cups.
Information
Category

Drinks, Cocktails