Happy Hour: Ruby Chai Appletini When I hear the word appletini, I can't help but cringe and think of a cloying, neon green cocktail. That's why, while at a recent Root Division art auction, when I saw that the specialty cocktail was an appletini, I avoided it. However, when I heard the appletini was a creation of one of San Francisco's best bartenders, H. Joseph Ehrmann, I knew I had to give it a try. Made with fresh apple cider and vodka infused with tea, this appletini is nothing like its processed counterpart. It tasted like fall in a glass with hints of vanilla and cinnamon.
It takes time to infuse the vodka and apple cider, but the process is worth it, especially if you make a large batch and serve it for Thanksgiving. Don't let Fall pass without making this refreshing, not-too-sweet cocktail, so get the recipe now and
.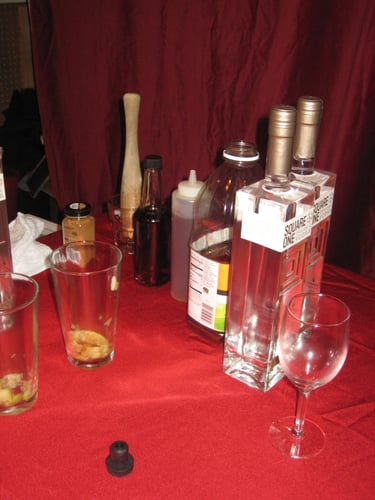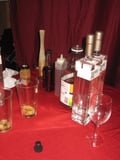 Ingredients
1.5 oz vodka (recommended: Square One) infused with Numi Organic Ruby Chai Tea, recipe below
1.5 oz apple cider infused with Numi Organic Ruby Chai Tea, recipe below
.5 oz agave nectar or simple syrup
1 apple (recommended: Gala)
Directions
Cut the apple in half, just of center leaving the stem on. Then slice the core out just to the other side of the stem. Reserve core slice for garnish.
Cut one quarter of the apple into pieces, removing the seeds and core. In a mixing glass, muddle into apple sauce consistency.
Add the agave nectar or simple syrup, vodka, apple cider and ice. Shake for 10 seconds and strain up into a chilled cocktail glass. Head should be frothy and creamy. Garnish with the apple core slice on the rim or floating.
Makes 1 drink.
Ruby Chai- infused Square One: In a mason jar or other glass sealable container add 750ml bottle of vodka and 6 bags of Numi Ruby Chai Tea. Let infuse for 1-2 hours. Remove the bags and squeeze back excess vodka. Pour the infused vodka back into the bottle.
Ruby Chai-infused Apple Cider: Pour cider into a sauce pan and heat (try not to boil). Turn off the heat and add 1 bag of Numi Ruby Chai Tea per 6 ounces of cider. Let steep for 3-5 minutes and remove the tea bags, squeezing back any remaining liquid. Pour spiced cider into a bottle to store.
Mixologist's Note: I love chai and Numi's Ruby Chai blend with Rooibos makes for a delicious infusion agent in cocktails. The warm rich spice blends superbly with the apple and by infusing we get intense flavor with no added water. The texture of the Gala apple when muddled into sauce consistency gives this drink a velvety, viscous mouthfeel with a creamy head like a pint of Guinness. If you batch prep the infusions and the apples and this drink is really easy to prepare and serve. To make this drink as a one-off at home, use 1 bag of tea per each 6 ounces of liquid, infusing the vodka cold for an hour or two and heating the cider and infusing for 3-5 minutes.
Information
Category

Drinks, Cocktails