 In terms of flavored vodkas, I've always enjoyed Absolut's more creative offerings. So naturally I was excited when I got my hands on a bottle of Absolut's newest flavor — Absolut Mango. The brand crafted several recipes to feature the spirit and I decided to experiment with this innovative cocktail that combines sage, cucumber, and lime juice.
While I've had a cocktail with basil and another with cilantro, I've never had any that uses sage. It adds a woodsy, earthiness to the drink — which is delectable and refreshing. The ingredients meld perfectly to make a cocktail that is slightly sweet, tart, and delightfully fruity. For the recipe,
.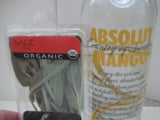 Ingredients
3 fresh sage leaves
3 slices of cucumber
1 ounce simple syrup
1 1/2 ounces Absolut Mango Vodka
1/2 ounce Cointreau
3/4 ounce fresh lime juice
dash of peach bitters*
Directions
In a cocktail shaker, muddle cucumber, simple syrup, and sage.
Add the vodka, cointreau, lime juice, and bitters.
Fill with ice and shake.
Strain into a cocktail glass, garnish with a sage leaf, and enjoy!
Makes 1 drink.
*I couldn't find peach bitters, so I substituted angostora.
Information
Category

Drinks, Cocktails