Happy Hour: Wikipedia's Bloody Mary
Happy Hour: Wikipedia's Bloody Mary Last week, I was headed to the grocery store and drove past one of the best Bloody Mary spots in the city. I saw the line of people and knew I had to have one. So while at the store, I picked up some tomato juice, celery, and olives — I was positive I had everything else at home — and rushed straight home.
When I asked YumJimmy which recipe I should make, he told me to try Wikipedia. He said, "Well if it's on Wikipedia it must be the 'classic' one right?" I couldn't really argue with this, so I decided to go for it. It ended up being a delicious — and yes "classic" — version. I opted to add a bit more spice — more cracked pepper and a dash or two more of Tabasco — but flavor it to suit your needs. If you want to see what goes into the Wiki version of a Bloody Mary, just
.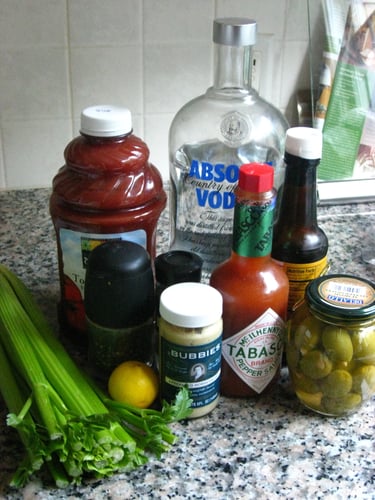 Wikipedia's Bloody Mary
From the New York School of Bartending via Wikipedia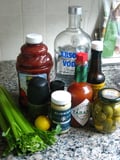 Ingredients
1 oz. to 1 1/2 oz.vodka
tomato juice
1 dash celery salt
1 dash ground black pepper
1 dash Tabasco
2-4 dashes of Worcestershire sauce
1/8 tsp. horseradish (pure, never creamed)
Dash of lemon juice
celery stalk
olives
Directions
Add vodka to a Highball glass filled with ice.
Fill glass with tomato juice.
Add celery salt, ground black pepper, tabasco, Worcestershire sauce, horseradish, lemon juice.
Shake or stir lazily, your choice.
Garnish with any or all of the following: celery stalk, a skewer of olives, pickles, carrots, mushrooms, or other vegetables; or even meat or fish (salami, shrimp, etc.) and cheese (see photos).
Information
Category

Drinks, Cocktails