Harney and Sons Ambessa Tea Taste Test
Taste Test: Ambessa Teas by Marcus Samuelsson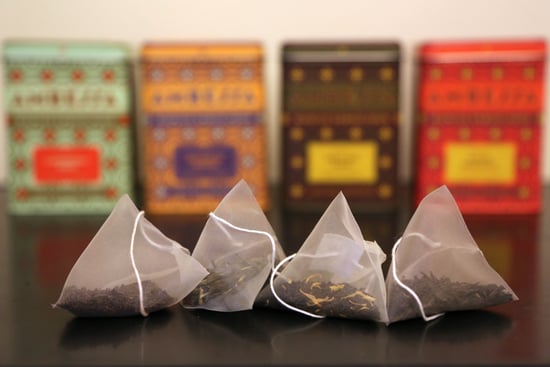 At the most recent NASFT Fancy Food Show, these flashy tea tins caught our eye. Upon further investigation, we learned that these Ambessa teas ($9 for 20 tea bags) are a partnership between Chef Marcus Samuelsson and Harney and Sons. According to the chef, the teas represent a culinary journey through the various places he has lived, from Africa to New York City. We couldn't wait to try and rate the whole line with our taste-testers back at home. This week, the teas finally arrived — and so have our scribbled notes and reviews. Take a look at the tea details and ratings.
Safari Breakfast
Representing chef Samuelsson's African heritage is Safari Breakfast, a black breakfast tea. Tasters found it earthy and classic in flavor, but felt the tea lacks the robustness that it promises on the label. Tasters claimed it was a little hollow in flavor, despite steeping it even longer than the directions call for. One taster thought it would be a good, upscale substitute for Lipton, but another wasn't apt to replace her PG Tips for this tin.
Tasters' average rating:

Lingonberry Green
Samuelsson, who was adopted by a Swedish family, created the Lingonberry Green to represent his Scandinavian childhood. Many eyes lit up upon reading and tasting the lingonberry flavor, which gives this tea a notable difference from other flavored green teas in the American market. The beverage, which was somewhat tannic from the green tea leaves and notably tart from lingonberry, reminded us of hibiscus tea (floral aroma included). While some tasters appreciated the berry notes, others found them a little too medicinal.
Tasters' average rating:

Choco Nut Blend
To celebrate his "culinary awakening" in Switzerland, the chef created this Choco Nut Blend, a black tea with marigold petals, apricot, and chocolate flavor. This tea surprised the tasters more than any of the others. We found the tea to be refreshing, warming, and having just the right balance of chocolate, coconut, and almond flavor. Those forgoing sugar will appreciate this tea for its ability to deliver a dessert-like flavor without any sugar. We recommend serving it with frothed milk for an even dreamier cup.
Tasters' average rating:

Earl of Harlem
The chef now calls New York City his home, which is why he ended the series with Earl of Harlem, a new take on an old classic, black tea with bergamot. Some tasters appreciated the mysterious flavor transition that the tea takes, from smoky to floral, like hibiscus. However, a few tasters thought it could have used a more prominent dose of bergamot oil.
Tasters' average rating:

Overall Thoughts
Each tin is $9 for 20 sachets, which isn't an outrageous price. Tasters love the that the tea line tells chef Marcus Samuelsson's life story, and we'd be happy to prop these tea tins in a visible spot on our kitchen counters. We hope in the future we'll see more variation in the line, perhaps in some herbal and other noncaffeinated forms.