Hash It Out With Brussels Sprouts and Bacon Everything tastes better with bacon and brussels sprouts are no exception. For some reason, I normally only have brussels sprouts at holidays meals, but this tasty vegetable beckons to be eaten more often.
With the cold front that came through San Francisco, it was a perfect weekend to test Tyler Florence's comforting brussels sprouts hash. The enticing recipe includes tender brussels sprouts, caramelized pearl onions, and crispy potatoes; the whole thing is topped with crunchy bacon and fresh parsley. A touch of briefly reduced balsamic vinegar finishes off the dish and provides a zingy bite that enhances the full, rich flavor of the hash. To get started on this scrumptious side dish,
.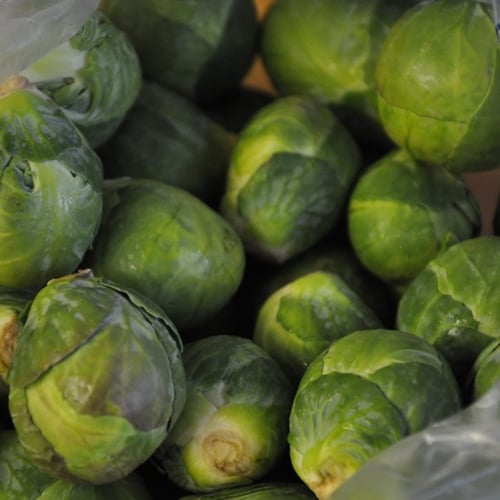 Brussels Sprouts and Bacon Hash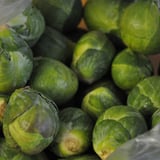 Ingredients
Extra-virgin olive oil
4 slices thick-cut bacon
4 fresh thyme sprigs
1 pound fingerling potatoes, cut lengthwise*
2 cups Brussels Sprouts, cut into thick slices
1/2 pound red or white pearl onions, peeled and cut in half
1/2 cup reduced-sodium chicken broth
2 tablespoon balsamic vinegar
1/4 bunch Italian flat-leaf parsley, roughly chopped
Directions
Set a large saute pan over medium heat and add 2 tablespoons of olive oil. Cut bacon into long, thin strips and add to pan with thyme. Cook for 5 to 7 minutes to render the fat. Remove bacon with a slotted spoon and set aside on a paper towel. Discard half of the fat in the pan.
To the remaining fat in the pan, add the potatoes and cook for one to two minutes. Add brussels sprouts and onions. Season with salt and pepper and cook until slightly browned. Add chicken broth and continue to cook for 3 to 5 minutes, until liquid has evaporated and vegetables are tender. Remove and discard thyme sprigs. Add vinegar and toss to coat. Cook until the vinegar has reduced.
Transfer to serving dish and fold in parsley and reserved bacon.
Serves 6-8 people.
*I substituted a yellow potatoes for fingerling potatoes, which I cut in 1-inch strips.
Information
Category

Vegetables, Side Dishes