Healthy Black Bean and Sweet Potato Cake Recipe
Killer App: Black Bean and Sweet Potato Cakes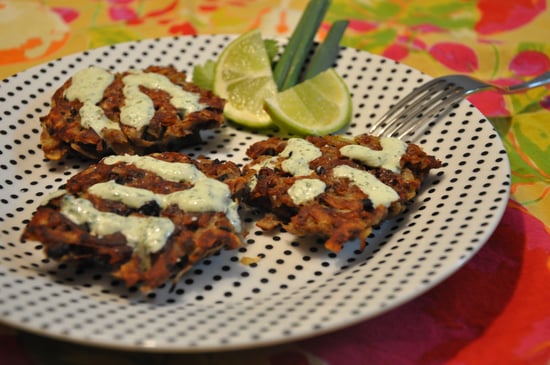 Now that we know who is going to the Super Bowl, it's time to get started on a Super Bowl party menu. Rather than clutter the table with junk food, consider making a bunch of healthy killer appetizers. Spicy black bean and sweet potato cakes are full of flavor and bound to satisfy even the hungriest of appetites.
While it looks like they have been pan fried, these cakes are actually cooked under the broiler with a minimal amount of oil. If you don't want to use full-fat sour cream, try substituting light sour cream or yogurt for the same great taste. Or jazz up the dipping sauce with extra jalapeno. Not only are these a great starter, but served with a salad, they are also a scrumptious vegetarian dinner. Heat up your broiler and keep reading for the recipe.
Ingredients
Black Bean and Sweet Potato Cakes
2 tablespoons olive oil
2 scallions, finely chopped
6 garlic cloves
1 shallot, finely chopped
1 jalapeno finely chopped, ribs and seeds removed, if desired
1 tablespoon ground cumin
2 (14-ounce) cans black beans
1 large sweet potato, coarsely grated
1 large egg, lightly beaten
1/2 cup dried bread crumbs
Lime and Cilantro Sour Cream
1/2 cup reduced fat sour cream
2 tablespoons fresh lime juice (about one lime)
1/8 cup cilantro, roughly chopped
1 scallion, roughly chopped
1 jalapeno, roughly chopped with ribs and seeds removed, if desired for more heat
Directions
Heat the broiler. In a small skillet over medium heat, warm 1 tablespoon of the olive oil. Cook scallions until softened, about 1 minute. Add garlic, jalapeno, cumin, and shallot and cook until fragrant, about 1 to 2 minutes. Transfer to a large bowl.
Add beans to the bowl, mash with a fork or potato masher, leaving about one quarter of beans whole. Season with salt and pepper. Fold in sweet potato, egg, and bread crumbs. Divide into equal size patties, about 2 inches in diameter.
Brush a baking sheet with remaining tablespoon of olive oil. Place the patties on the sheet about 1/2 inch apart. Broil 4 inches from the heat until golden brown, about 8 to 10 minutes. With a thin spatula, carefully turn the cakes over. Broil until crisp, about 2 or 3 minutes.
Lime and Cilantro Sour Cream: In a small food processor, combine sour cream, lime juice, cilantro, scallion, and jalapeno. Mix well.
Drizzle the sour cream over the black bean and sweet potato cake or serve sour cream in a small bowl with the cakes.
Serves 6-8.
Information
Category

Vegetables, Appetizers