Healthy Celebrity Chef Tips
Chefs' Secrets For Cooking, Eating, and Staying Slim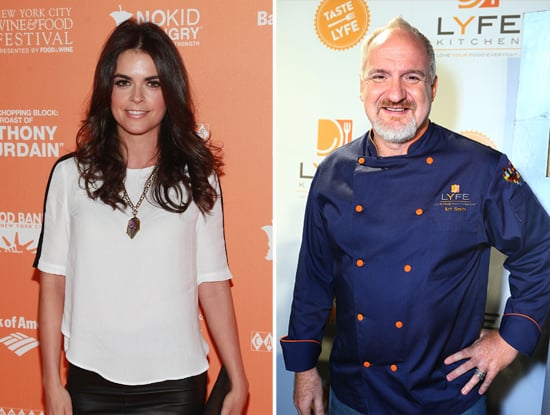 A healthy mindset while cooking on the line isn't easy; a chef's focus is on creating delicious dishes all day, yet they often don't have time to eat a balanced meal themselves. In today's fast-paced environment, how can culinary talent stay healthy — and set a good example for diners along the way?
This question was the subject of a panel at the New York City Wine & Food Festival, where chefs Art Smith and Sue Torres, and Marc Murphy, culinary personality Katie Lee, and author Allison Adato talked about staying healthy in the food industry. While the easiest food to grab on the go — french fries, anyone? — isn't often the best choice, chefs recognize the importance of eating for health. Just ask Art Smith, who lost 95 pounds after a diabetes diagnosis. "There was no way I could run restaurants," he said of his prior health condition.
Now chefs like Smith are much more mindful about the impact their cooking has on clientele. "I'd rather have customers for a long time and not contribute to their demise," Smith says. "We are what we eat, and chefs are facilitators of food." Keep reading for a few healthy eating tips from chefs.
Breakfast is crucial. "Start out with a hearty breakfast. You won't crash," Sue Torres says. She recommends making a batch of quality oatmeal (like the steel-cut kind) at the beginning of the week, then switching toppings daily; her current favorite is sauteed apples.
Think ahead. Preparation can help prevent poor eating choices. Art Smith admits to eating dinner before going in to his restaurants' kitchens for dinner service. Katie Lee simmers a pot of lentils and chops crudités over the weekend so she's well equipped for weeknight hunger. And Sue Torres's freezer is packed with peak-season fruit, so she can throw it into oatmeal on the fly.
Get moving. Art Smith embraces boxing, which is easier on joints and busy travel schedules — along with "taking the stairs instead of the elevator." When he doesn't have time to get to the gym, Marc Murphy gets off two subway stops early and walks. "I exercise like a mad person," admits cookbook author and Soul Cycle devotee Katie Lee.
Make healthy eating happen. "I'm very, very conscious about what I eat," Katie Lee said. The cookbook author is "very disciplined" Monday through Friday, eating a plant-based diet with little meat and dairy, but Saturday and Sunday are her days to have more fun. She's not alone: Murphy, who admits he has to "think consciously about eating healthy," has scaled back on buttery cooking in favor of simple dishes like roast chicken.
Rein in your appetite. "Don't finish everything on your plate," Marc Murphy says — a task particularly challenging when he's served extra courses at friends' restaurants. Sue Torres eschews chips and salsa before the meal at a Mexican restaurant. "It's going to take away from the meal itself," she says.
Play mind games on your palate. With fresher produce, you need less salt and less oil, points out Art Smith. Marc Murphy "wakes the food up" with fresh herbs, and Sue Torres balances food with chiles and acid for vibrant, abundant flavors. "Chili powder awakens the senses and releases endorphins," she explained.
What are your tips for staying in shape while still savoring cooking and food?