Healthy, Fast, and Easy Recipe For Hot Spinach Dip
Easy, Healthy Killer App: Hot Spinach Dip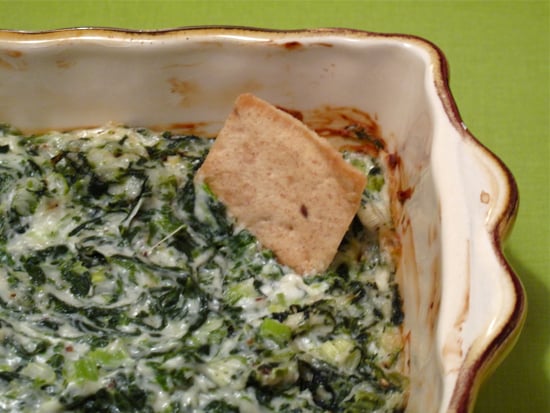 This year, several friends and I started an informal dinner party club. Each month, we take turns hosting; the hostess makes the entrée, and everyone else is assigned a supplementary dish like a salad, appetizer, or dessert. Most recently, I was assigned the appetizer to go with a baked cheese and sausage ziti.
What to serve, I pondered, with a hearty pasta and a rich frozen dessert? The answer turned out to be a hot, creamy spinach dip, made healthier with the addition of reduced-fat sour cream and a greater proportion of spinach. Light yet indulgent, it was a nice, green start to what would be a filling meal. I can't wait to serve it again during March Madness playoffs. Want a killer app that's at once both sinful and guiltless? Just keep reading.
Ingredients
10 oz frozen chopped spinach, thawed and excess liquid squeezed out
1/2 cup light sour cream
5 tbsp light mayonnaise
1/3 cup Parmigiano Reggiano
1/4 cup scallion, chopped
1 clove garlic, crushed
1 cup (4 oz) shredded part-skim mozzarella cheese
Fresh pepper, to taste
Pita chips, for dipping
Directions
Preheat oven to 375°.
Combine all the ingredients in a medium bowl. Place in an oven-proof dish and bake at 375° for 20-25 minutes, until hot and cheese is melted. Serve immediately with pita chips. Makes about 2 1/2 cups.
Serves 10.
Nutritional information per 1/4 cup serving: Calories 92, Fat 6.8 g, Carbohydrates 3.0 g, Fiber 0.7 g, Protein 5.3 g.
Information
Category

Dips, Appetizers

Cuisine

North American