Healthy Lentil Salad
Easy Winter Salad: French Lentils With Potatoes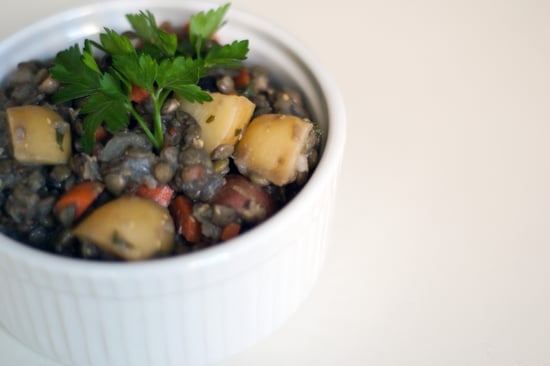 All of the richness that comes with the month of December is wonderful and delicious, but some days I just need a break from it all. I still want something filling and flavorful that will satisfy me. That's where legumes come into play for me – specifically, lentils. This salad incorporates classic French flavors, including whole grain mustard, onions, carrots, parsley, and french lentils. I added steamed potatoes because I wanted the salad to be slightly more substantial and have variation of texture, but this is definitely optional.
This salad is much, much better cold and on the second day when the flavors have had a chance to party together overnight in a refrigerator. It makes for a great protein-packed lunch, and you'll find yourself craving it all hours of the day.
French Lentil Salad
From Camilla Salem, YumSugar
Ingredients
1-1/2 cups of French green lentils, rinsed
2 to 3 cups marble potatoes, quartered
3 carrots, peeled and finely diced
1/2 red onion, finely diced
1/3 cup of parsley, chopped
1 clove of garlic, minced
2 teaspoons whole grain mustard
2 tablespoons olive oil
2 tablespoons canola oil
2 tablespoons red wine vinegar
1/2 lemon, juiced
1-1/2 teaspoons salt, or to taste
1/2 teaspoon black pepper
Directions
In a large pot, cover lentils with water and cook until lentils are tender, about 20-30 minutes. Add more water during this process if necessary.
In a steamer, steam quartered potatoes until tender. Set aside.
In another pot, heat water until boiling. Blanch carrots for 30 seconds and remove before they get too soft. Set aside.
Once lentils are soft, strain them and rinse them. Place in a large bowl with carrots, potatoes, onions, and parsley.
In a small bowl, or glass measuring cup, add garlic, mustard, both oils, vinegar, lemon juice, salt and pepper, and whisk until dressing is well mixed.
Pour over warm salad, mix together well, and set aside to cool. Serve or place bowl in refrigerator over night for flavors to really come together.
Serves 6-8.
Information
Category

Salads