Healthy Recipe For Grilled Scallops, Zucchini, and White Beans
Sunday BBQ: Grilled Scallops, Zucchini, and White Beans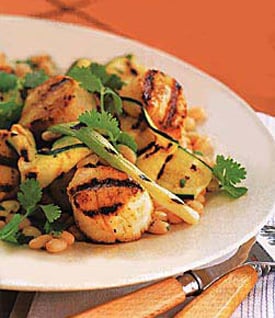 For tonight's dinner, Mr. Yum has politely requested scallops, a shellfish option that often gets overlooked in favor of shrimp or fish. Since I haven't had much of a chance to grill shellfish this Summer, I'm throwing it on the barbecue to get a little practice.
Leaving scallops on heat for too long makes them shriveled and rubbery, so watch them closely, as they also cook rapidly. Serve them atop a bed of cilantro-specked white beans, with grilled scallions and zucchini on the side. Want the healthy recipe? Just read more.


Grilled Scallops, Zucchini, and White Beans
From Gourmet
Ingredients
Eight 10-inch wooden skewers
15 1/2-ounce can small white beans
1/2 cup packed fresh cilantro sprigs
1 lemon
1 teaspoon Dijon mustard
8 large scallions
2 medium zucchini
2 teaspoons coarse salt
1 1/2 teaspoons ground cumin
24 large sea scallops (about 1 1/4 pounds)
2 teaspoons olive oil
Garnish: fresh cilantro sprigs
Directions
Prepare grill. Soak skewers in warm water 30 minutes.
In a colander rinse and drain beans. Chop cilantro. Squeeze 2 tablespoons juice from lemon. In a bowl toss together beans, cilantro, lemon juice, mustard, and salt and pepper to taste.
In a saucepan of boiling salted water blanch scallions until barely tender, about 4 minutes. Transfer scallions with tongs to paper towels to drain and season with salt and pepper. Cut zucchini lengthwise into 1/4-inch-thick slices using a mandoline or other manual slicer and season with salt and pepper.
In a bowl combine kosher salt, cumin, and pepper to taste. Remove tough muscle from side of each scallop if necessary and pat scallops dry. Toss scallops in cumin mixture to coat. Hold 2 skewers parallel to each other and about 1/2 inch apart. Thread 6 scallops onto skewers so flat sides can lie flat on grill. (Each scallop should be pierced by both skewers. This prevents scallops from spinning when turning them over on grill.) Thread remaining scallops onto remaining skewers in same manner. Brush scallops with oil.
Grill scallions and zucchini on a lightly oiled rack set 5 to 6 inches over glowing coals until zucchini is tender and scallions are golden, about 1 minute on each side. Grill scallops, turning occasionally, until just cooked through, about 4 minutes on each side. (If grilling is out of the question, scallions, zucchini, and scallops—not on skewers—can all be cooked in a large nonstick skillet: Lightly brush skillet with oil and heat over moderately high heat until hot before cooking vegetables and scallops separately.)
Toss zucchini with beans and serve topped with scallions and scallops and garnished with cilantro.
Serves 4.
Information
Category

Main Dishes, Shellfish

Cuisine

North American