Healthy Sweet and Sour Beef Cabbage Soup Recipe
Sunday Dinner: Sweet & Sour Beef Cabbage Soup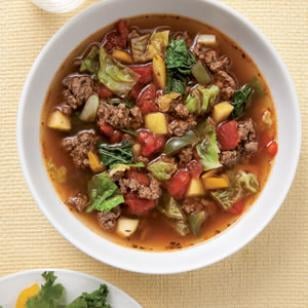 If you love stuffed cabbage rolls but aren't in the mood to get your hands dirty, this soup might just be the way to go.
While Golden Delicious apples and honey lend the dish a bit of sweetness, cider vinegar ensures every spoonful ends with a bit of bite, too. The soothing, one-pot meal also includes caraway seeds, thyme, and paprika; take the Eastern European flavors to the next level by serving alongside crusty rye bread. For the healthy, comforting recipe, read more.
Ingredients
1 tablespoon canola oil
1 pound lean (90% or leaner) ground beef
1 1/2 teaspoons caraway seeds
1 teaspoon dried thyme
2 1/2 cups frozen bell pepper and onion mix, thawed, chopped
1 medium Golden Delicious or other sweet-tart cooking apple, unpeeled, diced
6 cups reduced-sodium beef broth
1 15-ounce can crushed or diced tomatoes
1 1/2 tablespoons honey
1 tablespoon paprika, preferably Hungarian sweet
3 cups coarsely chopped Savoy, or green cabbage
1-2 tablespoons cider vinegar
1/4 teaspoon salt
Freshly ground pepper to taste
Directions
Heat oil in a Dutch oven over medium heat. Add beef, caraway seeds and thyme and cook, stirring and breaking up the beef with a spoon, until it is mostly browned, about 4 minutes. Stir in pepper-onion mix and apple; cook, stirring, for 2 to 3 minutes more.
Stir in broth, tomatoes, honey and paprika and adjust the heat so the mixture boils gently. Cook for 8 to 10 minutes to blend the flavors. Stir in cabbage and cook just until barely tender, 3 to 4 minutes more. Season with vinegar to taste, salt and pepper.
Makes 6 servings, about 1 3/4 cups each.

Nutrition information per serving: 250 calories; 10 g fat (3 g sat, 5 g mono); 54 mg cholesterol; 20 g carbohydrates; 20 g protein; 4 g fiber; 705 mg sodium; 717 mg potassium.
Information
Category

Other, Soups/Stews

Cuisine

Russian/Eastern European