Heinz Redesigns Ketchup Packets, Formula
The New Look and Taste of Heinz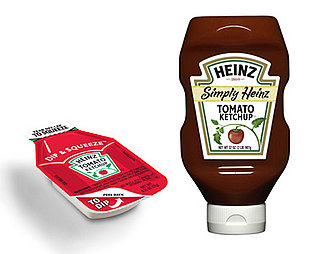 For the first time in 40 years, Heinz has redesigned its ketchup packet — and made it healthier to boot.
This morning, the company revealed a larger, more versatile condiment packet, which ketchup lovers can either tear off to squeeze like a traditional packet or peel off to dip. It holds three times as much as the old packet. The packaging innovation will be in most quick-service restaurants by the end of this year.
The company also introduced Simply Heinz Tomato Ketchup, a version made with sugar instead of high-fructose corn syrup. The ketchup will be released in March, and by Summer, the entire core Heinz ketchup line will reduce sodium by 15 percent, making Heinz the lowest-sodium national ketchup.
I know this is ridiculous, but I consider this a Heinz breakthrough. I can't wait to tear open a packet that's big enough for more than three fries! Hopefully, the news will quiet ardent protest groups on Facebook, like Make Ketchup Packets Bigger and Abolish Ketchup Packets. Are you as excited as I am for this groundbreaking move?