Heirloom Tomato and Burrata Salad Recipe
Perfectly Seasonal: Heirloom Tomato and Burrata Salad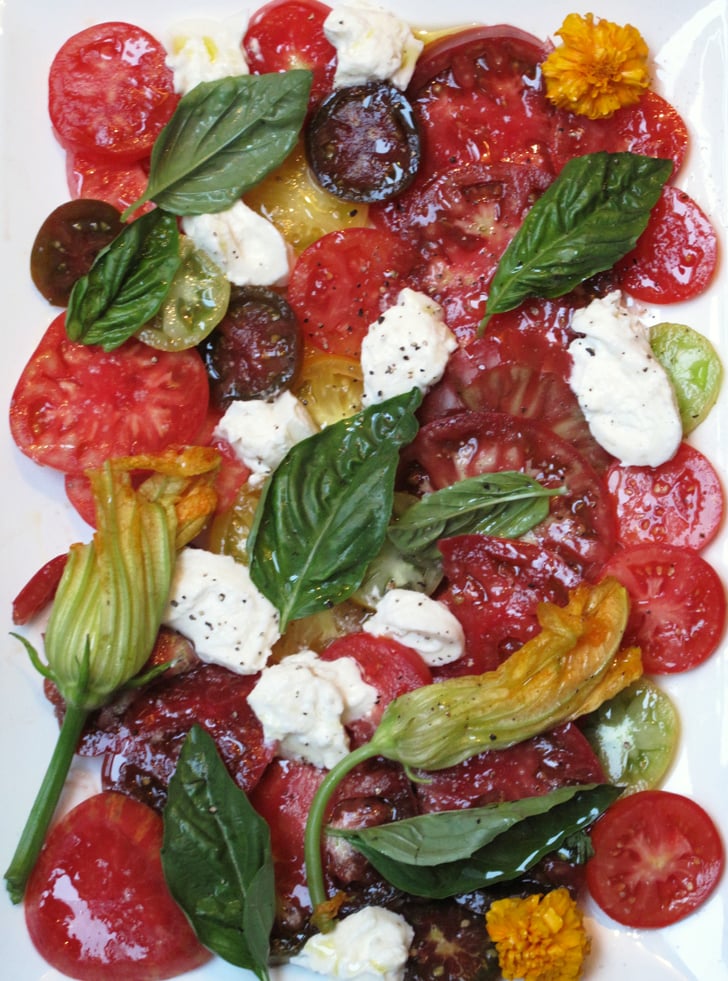 What could be more gratifying on a sweltering day than a platter of fat and juicy tomatoes, fresh off the vine? I ask that question each year when the season rolls around and, without fail, come up with nothing for an answer.
At this weekend's farmers market, when I spotted heirloom tomatoes by the crateful in a rainbow of colors, I couldn't help but bring several pounds home.
I used my loot — a mixture of green zebras, Cherokees, and yellow brandywines — as the star of a dish so unembellished, I'm not sure I would call it a salad. I sliced the fruits into thin rounds, then drizzled them with high-quality Italian olive oil.
A flaky sea salt helps round out the tomatoes' impossibly sweet flesh; I also added dollops of burrata to cut through the acidity and young leaves of basil to bring out the herbaceousness of the tomatoes. I devoured the dish right away and derived such visceral pleasure from eating it that I guarantee next week I'll be making the salad again. Keep reading to savor this Summer fruit the same way.
Heirloom Tomato and Burrata Salad
Inspired by Food & Wine
Ingredients
2 pounds heirloom tomatoes (in varying sizes, varieties, and colors), sliced 1/4 inch thick
8 ounces burrata, drained and cut into 1 inch-sized pieces
Sea salt, such as fleur de sel
Freshly ground black pepper
Extra-virgin olive oil, for drizzling
8-10 basil leaves, large and small, for garnish
Squash blossoms and/or edible flowers, for garnish
Directions
Arrange the tomatoes on a platter; dot with burrata pieces. Sprinkle with salt and pepper, then drizzle with extra-virgin olive oil. Scatter the basil leaves on top.
Serves 6.
Information
Category

Vegetables, Salads

Cuisine

North American