Herb-Infused White Wine Recipe
Come Party With Me: Californian Thanksgiving — Drinks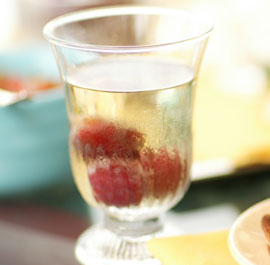 Instead of serving a spirits-based specialty cocktail at my Californian Thanksgiving, I'll be pouring a wine-based drink that's garnished with icy grapes. The recipe is somewhat like sangria, but without the addition of liqueur. White wine is infused with fresh rosemary, mint, and lemon zest. It sits overnight until the wine has an aromatic herbal quality. It's a light, refreshing, and fruity start that will offset the heavy and rich meal perfectly. Don't skip the frozen grape step; it's a festive presentation and they end up looking like floating jewels in the infused white wine.
Keep reading for the easy, make-ahead recipe.
Ingredients
About 1 lb. grapes, preferably a large, seedless variety such as Red Globe, plucked from the stems
2 3-inch sprigs fresh rosemary
2 3-inch sprigs fresh mint
2 bottles (750ml each) Sauvignon Blanc
2 3-inch strips lemon zest (pared with a vegetable peeler)
Directions
Rinse the grapes and pat them dry. Spread on a rimmed baking sheet and freeze until solid, several hours before guests arrive or overnight.
Rinse the herbs well. Open the wine bottles, stuff 1 sprig each of rosemary and mint and a strip of lemon zest into each bottle, recork, and refrigerate for 6 hours, or overnight.
To serve, set out glasses, put 3 to 5 frozen grapes (depending on size) in each glass, and pour in the chilled bianco.
Serves 6-8.
Information
Category

Drinks, Cocktails

Cuisine

North American