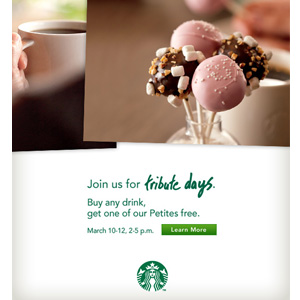 In celebration of our 40th anniversary, Starbucks is reclaiming what we do best: elevating the coffeehouse experience.
The perfect way to complement a warm cup of our delicious coffee is with new Starbucks Petites — delicious sweets perfectly sized for a well-deserved afternoon treat. There are eight different Petites in all, including Cake Pops, Whoopie Pies, Mini Cupcakes, and Sweet Squares. And because each of our Petites is under 200 calories, you can still feel good about treating yourself.
Petites are made with simple, great tasting recipes that use high-quality ingredients. They're free of artificial flavors, artificial dyes, high-fructose corn syrup, artificial preservatives, and artificial sweeteners.
Come to Starbucks March 10-12 from 2-5 p.m. and get one of our Petites for free when you buy any drink.
Learn more at Starbucks.com/TributeDays.