Heritage Turkeys
What's the Deal With Heritage Turkeys?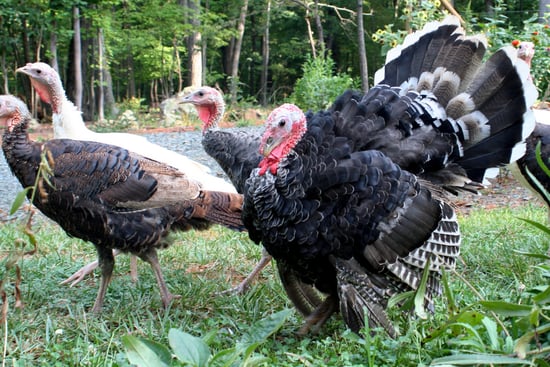 Turkey Day is right around the corner (we're pretty excited for that tryptophan-induced nap after stuffing our faces), and heritage turkeys are the talk of the town. You may be wondering what the deal is with these birds: Why is everybody talking about them? Why should we leave our old supermarket turkeys behind? Do they taste better? How should they be cooked? Fret not, because we've got some answers for you.
Heritage turkeys are a group of several turkey breeds (Standard Bronze, Bourbon Red, and Narragansett, to name a few) that were developed in the United States and Europe over centuries. Heritage breeds are actually the ancestors of the common Broad Breasted White turkey that we are so familiar with today. Unlike today's commercial turkeys, heritage birds mate naturally and spend most of their lives outdoors. They also have smaller breasts and take longer to mature, so they process of raising the birds is more time-consuming. This makes them more expensive than their commercial counterparts.
The payoff for all of that time and energy they spend growing is that the meat is richly flavored and incredibly moist. Instead of the slow, low-temperature roasting commercial birds require, heritage birds fare better with fast cooking at high temperatures. This keeps them from drying out (a common Thanksgiving worry) and locks in all of the flavor. For a simple way to roast your first heritage bird, we love the rosemary-maple turkey recipe from LocalHarvest.