Hershey Shutters Original Chocolate Factory, Cuts 500 Workers
Hershey's Shutters Original Chocolate Factory, Cuts 500 Workers
There's no sugarcoating this sad news in candy land: after more than 100 years, Milton Hershey's original chocolate factory, located in Hershey, PA, will be closing its doors and laying off nearly half its workforce.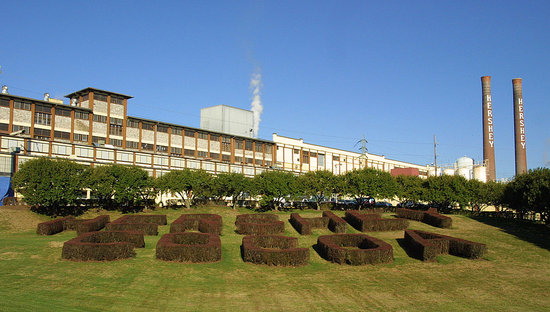 For the past century, the factory has been an American landmark and tourist destination for chocolate lovers all around the world. But Hershey reps say the factory, which was first built in 1903, is now too outdated to accommodate modern equipment that's necessary for production. To stay competitive with other major players (such as rival Kraft, which recently bought out Cadbury), Hershey will move to a new $300 million facility currently being built outside of town with new equipment that will require less manpower. As a result, the company is also laying off 500 of its 1,100 workers.
Hearing that the pair of smokestacks at the corner of Cocoa and Chocolate avenues will no longer be a part of the chocolate-making process left a bitter taste in my mouth, yet I suppose it's just a testament to how much commerce has changed in today's economic climate. Are you just as disappointed to hear of the news?