History of El Bulli and Ferran Adria
9 Fascinating Facts to Know About El Bulli
Despite closing its doors in July 2011, famed Spanish restaurant El Bulli and its fearless leader, Ferran Adrià, continue to inspire the restaurant world. Though only a small fraction of people were able to gain entry to the sought-after dining room, El Bulli received plenty of buzz for its development of nouvelle cuisine and experimentation with molecular gastronomy. Chefs around the globe have sought to emulate, improve, and modernize the dining experience, using El Bulli as the prime example of success. As El Bulli gears up to reopen as a foundation, it's sharing history, artifacts, and key philosophies of the restaurant through a museum exhibit entitled El Bulli: Ferran Adrià and the Art of Food, at the London Somerset House until Sept. 29. Prepare to be astonished by some rich learnings about the restaurant and its chef.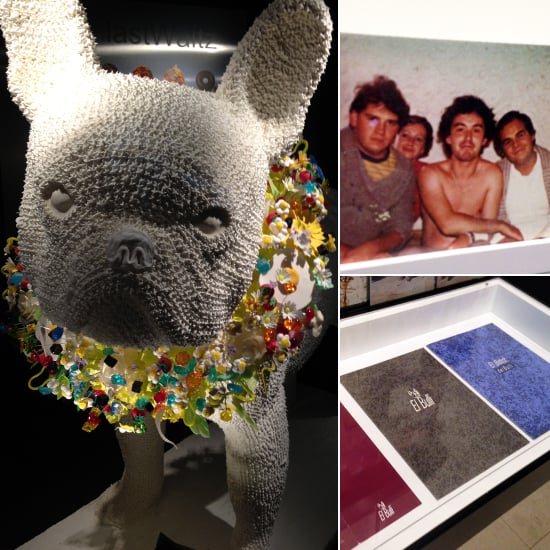 (Clockwise from left) A larger-than-life bulli made from meringue, a young Ferran Adrià in the center, and old El Bulli menus
History
Mini golf course turned beach bar: Dr. Hans Schilling and his wife, Marketta, founded the restaurant in 1965. Schilling envisioned turning the property into a mini golf course, but instead, El Bulli became a beach bar that served drinks and sandwiches.
Bulli equals bulldog: Marketta owned several French Bulldogs, and her nickname for them was "bullis," which inspired the restaurant's name.
Chef at 25: It wasn't until 1984 that Ferran Adrià and Christian Lutaud became head chefs, but by 1987, Adrià had taken sole charge of the kitchen at the young age of 25. In 1990, the restaurant received its second Michelin star, and in 1997, El Bulli received its third star.
Keep reading for more unusual facts about El Bulli.

Molding clay putty plate next to a picture of the finished dish
Artifacts
Clay putty practice: The El Bulli cooks used colorful clay putty to plate each dish to scale, exactly as they envisioned, before the item made it to the menu.
Proper plating: Part of serving new-age dishes is just that — paying attention to the dishes. In the '90s, El Bulli began experimenting with offbeat dish designs, partnering with design firms like Riera Casso SCP to design metal pieces inspired by origami.
Vegetables but not: The textured vegetable panaché is a symbolic dish for El Bulli. First served in 1994, it redefined El Bulli as a restaurant that prioritized interesting cooking concepts rather than dishes. The plate contained sorbet, mousse, puree, foam, and jelly, all made from vegetables and nuts.

(Clockwise from top left) A collage of every El Bulli dish ever made, a model of the El Bulli foundation, frozen water, and the entire El Bulli catalog
Philosophy
Mediterranean to molecular: In 1987, Adrià decided the restaurant would only create original recipes, and in 1994, the restaurant transformed from a fine Mediterranean restaurant to one that focused solely on molecular gastronomy and experimentation. Every dish was dated and cataloged with a number; that way, El Bulli can refer back to previous menu items, and the public knows when a technique or concept was invented.
The sixth sense: Ferran Adrià started "The Workshop," his cooking lab, as a way for his cooks to meet and create new cooking techniques. Adrià sought to explore the "sixth sense" in each dish, his term for a diner's emotional response (surprise or joy, for example) to the food.
Restaurant to foundation: By 2014, El Bulli will complete its renovation and reopen as a foundation with the intention of educating the public and innovating more radical concepts.