Hoisin-Braised Short Ribs
Soul-Soothing Supper: Hoisin-Braised Short Ribs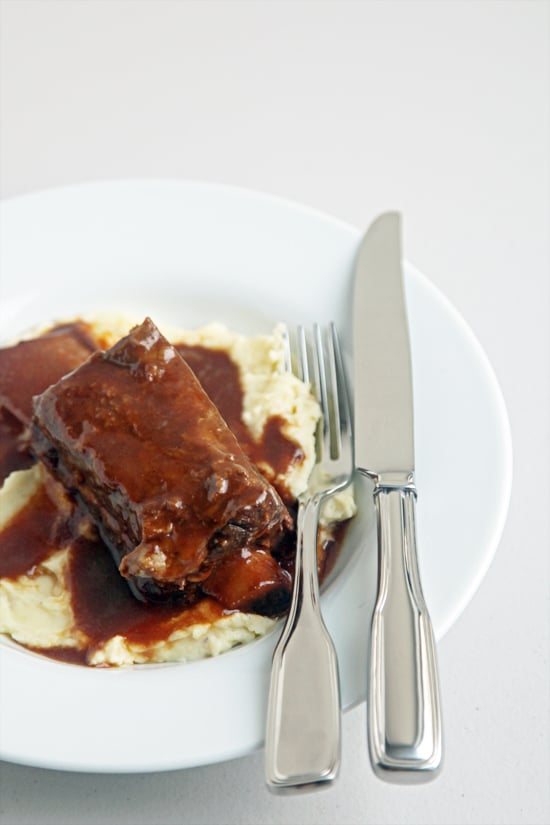 Up until a couple years back, I was a staunch red meat avoider. Not because I was a vegetarian or had moral qualms over its consumption, but rather as a matter of taste. Steak, burgers, meatballs, and the whole lot of much-beloved American classics held no sway over my palate, until one simple but revelatory bite changed it all. No, it wasn't a dry-aged steak or juicy Shake Shack burger that changed my mind — though I'm now irretrievably enamored with both — but rather, a bite of tender, succulent, braised short ribs.
Little by little I came to crave these tender, boldly flavored bites, soon embracing carpaccio, tartare, roasted bone marrow, and even grilled beef tongue. But it's still tender, falling-off-the-bone short ribs that get me every time. So when I came across this beer- and hoisin-braised stunner of a recipe, I knew I'd have to simmer up a batch posthaste, as it would inevitably enter my meal rotation. Thankfully, I was right on this account and then some. Slightly sweet, tangy, and full of deeply meaty flavor, they're so lovely that I'd wager they'd have made a red meat convert of me far earlier had I only tried them years back.
Keep reading for the succulent and supereasy recipe.
Ingredients
3 pounds beef short ribs
Kosher salt and freshly ground black pepper
3 tablespoons neutral oil, such as canola or grapeseed
10 to 12 garlic cloves, peeled and smashed
1-inch piece ginger, peeled, and sliced into 1/4-inch rounds
12 ounces ale, such as Bass
3 tablespoons rice wine vinegar
1 cup hoisin sauce
Directions
Generously season the short ribs with salt and pepper.
Heat the oil in a large dutch oven over high heat. Brown the ribs on all sides, in batches if necessary. Remove the ribs to a plate and pour off all but a couple tablespoons of the rendered fat.
Return the dutch oven to the stove, lower the heat to medium, and sauté the garlic and ginger for about 3 minutes, until golden. Add the ribs back to the pot. Add the beer and vinegar. Stir and then cover and simmer for 2-1/2 hours.
When there's half an hour left of cook time, preheat the oven to 300°F.
Pour the hoisin sauce over the ribs, move the pot to the oven, and cook, uncovered, for 30 minutes.
Remove ribs to a platter. Strain the sauce into a large measuring cup or fat separator. Discard solids and skim off any fat from the top. Drizzle the sauce over the ribs and serve with mashed potatoes or bok choy.
Serves 4-6.
Information
Category

Main Dishes, Beef

Cuisine

North American