Holiday Appetizer: Roquefort and Walnut Canapes
Wow Guests With Roquefort & Walnut Canapés If you're throwing a holiday party and need some appetizer ideas, rather than putting out the tried-and-true Chex Mix and guacamole, why not try something entirely new? I did, when I brought these blue cheese walnut amuses-bouche to my holiday party this year. The bread, when buttered and toasted, takes on the crispy, airy consistency of a cheese puff, which is a perfect foil for the brandy, mustard, and blue cheese topped with walnuts. While this bite is certainly elegant, it won't stay on your table long. To make these canapés,
.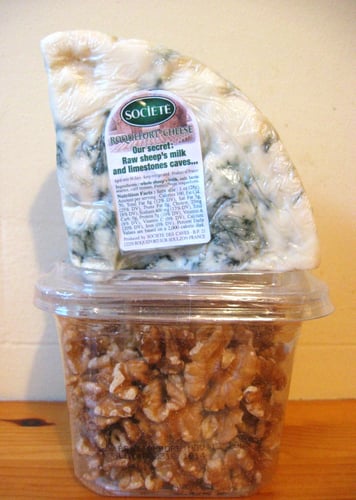 Roquefort and Walnut Canapés
From Saveur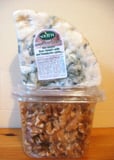 Ingredients
16 1⁄4"-thick white bread slices, preferably Pepperidge Farm Very Thin Sliced Bread
Unsalted butter, melted
8 tbsp.softened unsalted butter, plus more to melt and brush on bread
4 tbsp. softened cream cheese
2 tbsp. brandy
1⁄2 tsp. dried mustard powder
8 oz. crumbled blue cheese, preferably Roquefort
Kosher salt
32 flat-leaf parsley leaves
16 walnut halves, cut into quarters
Directions
Using a 2" round cookie cutter, cut out 32 circles from bread slices. Brush both sides of each circle with melted butter and transfer to a baking sheet. Toast bread in a 400˚ oven, turning once, until light golden, about 10 minutes.
Meanwhile, beat 8 tbsp. of the softened butter, cream cheese, brandy, and mustard powder in a medium bowl. Stir in blue cheese. Season with kosher salt.
Spread about 1 tbsp. cheese mixture onto each bread circle and garnish with a flat-leaf parsley leaf and a piece of walnut.
Makes 32 canapés.
Information
Category

Other, Appetizers

Cuisine

North American