Holiday Cheese Pairing Tips
4 Pointers For Perfecting That Holiday Cheese Platter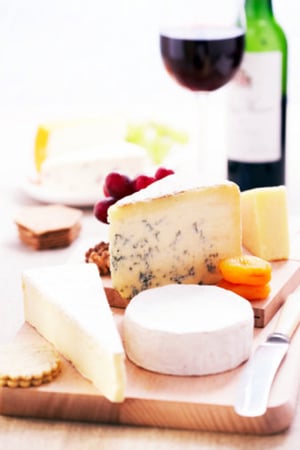 Pulling together a cheese platter for your next holiday soiree seems like an übereasy task — and it should be, if you know the few basic fundamentals of cheese pairing.
Take a few tips from Cathy Strange, cheese buyer from Whole Foods Market, before you stock up your party pantry, and you'll be sure to have a cheese plate that's as dynamic as your Christmas party conversation.
Your platter's only as solid as your cheese is delicious. "If you pick up mass-produced cheese that's more focused on low price than quality, that will be reflected in the tasting process," Strange says. If you're on a budget, she recommends chatting with your local cheese monger instead and asking to see what they're excited about this holiday season given the budget you have in mind.
Keep reading for a few more basic cheese pairing bytes.
Mix it up. "You don't want your cheese plate to be a snooze-fest," Cathy says simply. She suggests selecting a balance of contrasting tastes and textures: sweet and savory, firm and creamy, soft-ripened and aged. If you're starting with a brie, counter it with a raw milk blue, nutty Parmesan, and a mature cheddar cheese.
When pairing, include the usual suspects, but think outside the box, too. Fresh fruits like grapes, pears, and figs complement cheeses, as do savories like olives, roasted nuts, and marinated vegetables. Want to get more strategic? "Think about the texture and flavor profile of the cheeses you're pairing," she says. For example, you might pair Parmigiano-Reggiano with walnuts. "The slight bitterness of the skin contrasts nicely with the nutty texture of the cheese," Cathy points out.
Follow the two T's: timing and temperature. Don't wait until you're ready to taste to take that cheese out of the refrigerator. Instead, plan on taking the cheeses out at least one hour prior to tasting. That'll be enough time to allow them to come to room temperature. Adds Cathy, "This allows the cheese to 'breathe' a bit to enhance its natural flavors and accentuate the pairings you worked so hard on!"
Tell us: what are the must-have essentials for your cheese board?