Holiday Kettle Corn Flavors
Taste Test: Angie's Artisan Treats Holidrizzle Kettle Corn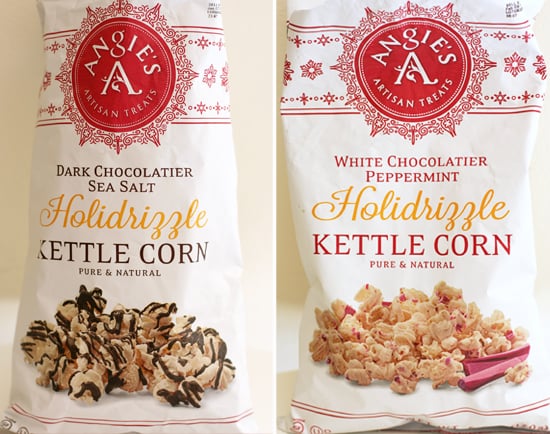 We're huge fans of Boomchickapop, the sea salt popcorn made by Angie's Popcorn, and we couldn't wait to pop open the brand's latest Holidrizzle kettle corn flavors Dark Chocolatier Sea Salt and White Chocolatier Peppermint, recently released for the holiday season. These snacks are made from non-GMO corn and sweetened without high-fructose corn syrup. Keep reading to see if our tasters found these flavors as addictive as the original.
The promise for Dark Chocolatier Sea Salt: "Drizzled dark chocolate with sea salt over classic kettle corn is a great reason to celebrate with family and friends during the holidays. A party-ready mix that's good enough to gift!"
What our tasters thought: "Love, love, love!" several tasters exclaimed. Several even claimed they "could eat this whole bag." One mentioned that she "always loves the mix of chocolate and buttered popcorn at the movies," so adding them together saves her a step. While some thought it was "just the right balance" of flavors, others wished it was "saltier," "less sweet," and "needed caramel." Another less-enthused taster added, "It isn't worth buying, but if it's in the kitchen, I'll eat it."
What YumSugar thought: The sweet, slightly bitter chocolate was definitely apparent in this bag, and the sea salt heightened the flavor of the kettle corn. We liked this flavor, though we wouldn't say we enjoy it more than the original Boomchickapop.
Tasters' rating average:

The promise for White Chocolatier Peppermint: "White chocolate and peppermint taste like the holiday season. With the addition of kettle corn's salty, sweet crunch, you can update Santa's cookies and milk with this new holiday treat!"
What our tasters thought: The average rating reflected the mediocre response from tasters. Some said the combo was "minty and delicious" and even "enjoyable," but even the enthused admitted the "strange pairing" would "get old quick." A few claimed they would prefer milk chocolate with mint over white chocolate and mint.
What YumSugar thought: We've seen a lot of peppermint-flavored snacks hit the shelves, but we haven't tried one that we like yet, and this flavor is no exception. It tasted like we'd just brushed our teeth with peppermint toothpaste, then followed that up with salty popcorn. In the future, we'd pass on this flavor.
Tasters' rating average:

Have you spotted this holiday-flavored popcorn on shelves?