Holiday Open House Menu and Recipes
Come Party With Me: Holiday Open House — Menu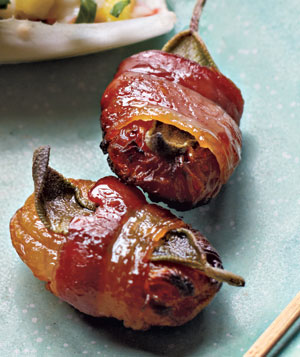 Don't be scared to host a holiday party. With a little planning and creativity, one can easily throw together a fabulous shindig. A holiday open house is ideal because it doesn't involve making a complete meal, and it's less formal than a cocktail party. Begin the open house in the afternoon or late evening. Offer a couple of uncomplicated but classic apps alongside store-bought nuts, olives, and charcuterie. Chicken skewers are always a hit, and they're delicious fresh from the oven or at room temperature. Puff pastry pinwheels are one of my go-to recipes during the holidays. Fill with cheese and herbs in advance, then slice and bake as needed.
Lastly serve an assembled hors d'oeuvre, like bacon wrapped apricots, which requires nothing more than a quick bake in the oven. Interested in these recommended recipes? Keep reading.
Ingredients
1/2 cup freshly squeezed orange juice
1 orange, zested (about 2 teaspoons)
1/2 cup smooth natural peanut butter
2 tablespoons packed dark brown sugar
1/4 cup light soy sauce
2 teaspoons peeled grated fresh ginger
4 medium cloves garlic, minced
1 teaspoon red pepper flakes
1 1/2 pounds boneless chicken thighs, cut into 1-inch wide strips
Oil, for grill grate
Skewers (soaked in water for 20 minutes if wooden)
1/4 cup roughly chopped fresh cilantro leaves, for serving
1/3 cup roughly chopped roasted, salted peanuts, for serving
Directions
In a large bowl, whisk together the orange juice, orange zest, peanut butter, sugar, soy, ginger, garlic, and red pepper flakes until smooth and evenly combined. Reserve 1/3 cup of the mixture to serve as a dipping sauce. Put the marinade in a resalable plastic bag, add the chicken, seal the bag and turn to coat evenly. Refrigerate and allow to marinate for 30 minutes to 8 hours.
Heat a grill to medium heat, (350 degrees F), and rub the grate with a towel dipped in oil.
Thread 1 to 2 chicken tenders on each skewer. Grill the chicken until thoroughly cooked, about 2 to 3 minutes per side. Transfer to a serving platter and sprinkle with cilantro and peanuts. Serve hot or at room temperature with the reserved peanut sauce.
Serves 4.
Information
Category

Poultry, Appetizers

Cuisine

Other Asian
Ingredients
1/2 of a 17.3-ounce package Pepperidge Farm Puff Pastry Sheets (1 sheet), thawed
1/4 cup grated parmesan cheese
2 tablespoons finely chopped fresh herbs (rosemary, thyme and/or parsley)
Directions
Heat the oven to 375 degrees F.
Unfold the pastry sheet on a lightly floured surface. Roll the pastry sheet into a 14-by-11-inch rectangle. Sprinkle with the cheese and herbs. Starting at a short side, roll up like a jelly roll. Wrap the pastry roll with plastic wrap and freeze for 45 minutes or until firm.
Cut the pastry roll into 1/8-inch slices. Place the slices, cut-side down, onto baking sheets.
Bake for 10 minutes or until the pastries are golden brown. Remove the pastries from the baking sheets and let cool on wire racks for 10 minutes.
Serves 6-8.
Information
Category

Appetizers, Puff Pastry

Cuisine

North American
Ingredients
24 small fresh sage leaves
24 large dried apricots
8 slices bacon, cut crosswise into thirds
2 tablespoons pure maple syrup
toothpicks, for serving
Directions
Heat oven to 375 degrees F. Place a sage leaf on each apricot, wrap with a piece of bacon, and place seam-side down on a baking sheet.
Bake until the bacon is beginning to crisp, 6 to 8 minutes per side.
Remove from oven and brush with the maple syrup. Serve with toothpicks.
Makes 24.
Information
Category

Appetizers, Finger Foods

Cuisine

North American