Homemade American Cheese Recipe
DIY American Cheese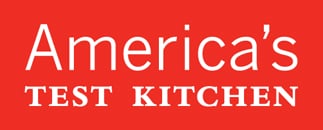 We've got a new partnership with the recipe, equipment, and product testing gurus at America's Test Kitchen. They'll be sharing some of their time-tested recipes and technical expertise with us weekly. Today, recipe developer and grilled cheese queen Yvonne Ruperti shows us how to make DIY American cheese; consider it an ooey, gooey, cheesy paean to the grilled cheese sandwich.
I'm not afraid to admit that I love American cheese (yes, like Kraft Singles) by itself, on a grilled cheese sandwich, on a cheeseburger, or even just slapped onto a plate until it's nice and gooey (a childhood pleasure that I never outgrew).
But what exactly is American cheese? I have to think it's the answer to that exact question that's given the stuff such a bad rap. The American cheese you find in the supermarket refrigerator case isn't cheese made in the traditional way (milk that's formed into curds and pressed). Instead, it's either a blend of cheese and additives, or it's a highly processed mixture of ingredients such as water, milk, milk fat, protein, whey, food coloring, flavorings, and emulsifiers. The result is a processed cheese with a mild flavor that melts incredibly well. I wanted to get as close as possible to the taste and texture of American cheese using only pantry ingredients and a food processor. A little tinkering proved I didn't need much; the key was quickly melting together a mix of milk, cheese, and a few other ingredients (including plenty of salt), then giving it a chance to set up with the help of a little gelatin.
By making your own American cheese, you will know exactly what went into it, and you can also include add-ins such as black pepper, roasted red peppers . . . you name it. As I concocted my version of American cheese in the test kitchen, not only did I draw a crowd of curious onlookers, I caused all of the snooty foodies to run for the hills. But that's okay with me; they can keep their Époisses and Robiola — I'm completely content eating my perfectly melty, toasted grilled cheese with American cheese any day of the week.
Keep reading for the recipe.
More stories from America's Test Kitchen:
Secrets to Olive Oil Tart Crust
Recipe Makeover Challenge: Oven-Fried Chicken
Bake it Better: Fast Apple Dumplings
3 Reasons to Love Your Rasp Grater
Notes
This recipe calls for whole dry milk powder; don't mistakenly buy nonfat milk powder, which is the far more common of the two. We purchase whole dry milk powder from King Arthur Flour company; you can order it at kingarthurflour.com.
Ingredients
1 1/2 teaspoons unflavored gelatin
1 tablespoon water
12 ounces Colby cheese, shredded fine (3 cups)
1 tablespoon whole dry milk powder
1 teaspoon salt
1/8 teaspoon cream of tartar
1/2 cup plus 2 tablespoons whole milk
Directions
Line 5 by 4-inch disposable aluminum loaf pan with plastic wrap, allowing excess to hang over sides.
Sprinkle gelatin over water in bowl and let sit until gelatin softens, about 5 minutes. pulse cheese, milk powder, salt, and cream of tartar in food processor until combined, about 3 pulses.
Bring milk to boil in small saucepan. Remove pot from heat and whisk in softened gelatin until dissolved. Transfer mixture to liquid measuring cup. With processor running, slowly add hot milk mixture to cheese mixture until smooth, about 1 minute, scraping down bowl as needed.
Immediately transfer cheese to prepared pan; working quickly, pack cheese firmly into loaf pan to remove any air pockets, then smooth top. Fold overhanging plastic tightly against surface of cheese, and refrigerate for at least 3 hours to set. Enjoy immediately; American cheese can be refrigerated for up to 1 month.
Makes 1 pound.
Information
Category

Snacks, Cheese

Cuisine

North American