Homemade Asparagus Pizza Recipe
Meatless Monday: Asparagus Pizza With Lemon Vinaigrette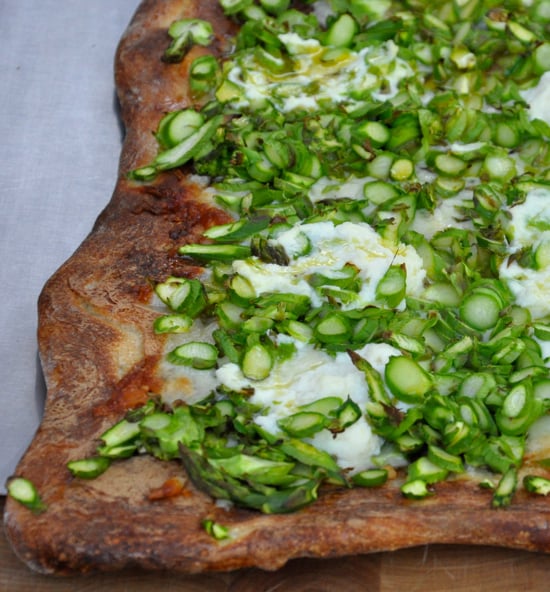 Making a pizza is a great way to incorporate seasonal veggies (like asparagus) into an easy meatless dinner. This uncomplicated pizza is topped with creamy ricotta, melted mozzarella, fresh asparagus, green garlic, and a zesty lemon vinaigrette.
I've found that the best way to get a crispy crust is to prebake the crust to a light golden color. Before I top the pizza with the fresh ingredients, I flip the par-cooked crust over. For perfectly uniform asparagus slices, I used the slicer blade on my cheese grater and it worked like a charm.
Unfortunately, my local grocer was out of full-fat ricotta, so I opted to use the low-fat version, but it definitely doesn't melt as well. If you want to add more veggies to your dinner, top the cooked pizza with wild arugula or Spring mix before drizzling the lemon vinaigrette. Give this seasonal meatless pie a try by reading more.
Asparagus Pizza With Lemon Vinaigrette
From Lauren Hendrickson
Ingredients
1 package of premade pizza dough
3/4 cup mozzarella cheese, grated
1/2 cup ricotta cheese, preferably full fat
1 bundle of asparagus, thinly sliced
1 lemon, juiced plus 1 teaspoon zest
2 tablespoons champagne vinegar
6 tablespoons extra virgin olive oil
Pinch of salt
1/4 cup green garlic or scallions, thinly sliced
Directions
Preheat the oven to 500°F.
On a large cookie sheet lightly covered in flour, prepare the pizza dough. Roll or stretch the dough until it's thin and covers the whole sheet. To prevent large bubbles, prong with a fork, punching small holes, all over the dough.
Place the pizza dough in the oven and cook halfway until it is just golden brown, about 5-7 minutes.
Once the dough is golden brown, flip it over to ensure a crispy crust. Top with grated mozzarella, spoonfuls of ricotta cheese, and the sliced asparagus. Cook until the cheese is golden, about 4-6 minutes. If the pizza is not browning, try using the broiler for just a couple minutes but be sure to keep a close watch.
While the pizza is cooking, whisk together lemon zest, lemon juice, and champagne vinegar. Slowly pour and whisk in olive oil until the mixture is emulsified.
Move the cooked pizza to a cutting board and top with lemon vinaigrette and sprinkle the green garlic or scallions over the top.
Makes 8 slices.
Information
Category

Main Dishes, Pizza

Cuisine

North American