Homemade Hostess Cupcakes
Fulfill Nostalgic Needs With Homemade Hostess Cupcakes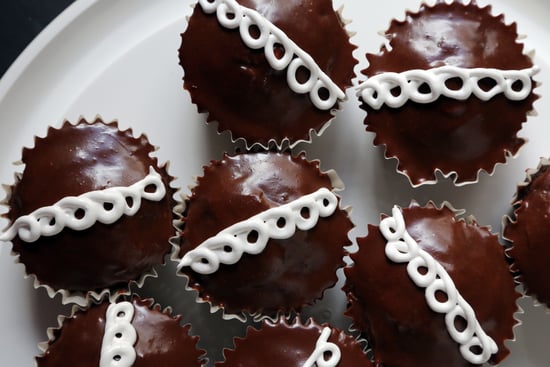 Hostess may have shut down last year, but that doesn't mean you can't still get your chocolate cream-filled cupcake fix!
Start by making an easy, classic chocolate cupcake that's fluffy and moist.
Build a surprise on the inside of each cupcake with a vanilla marshmallow filling using marshmallow fluff as a base. If you have any leftovers, make a fluffernutter sandwich with the marshmallow cream and peanut butter.
To fill the cupcakes, simply dive the star tip of the pastry bag into each cupcake's center. To fill each cupcake with the same amount, twist off a small section of the pastry bag (toward the tip) and only squeeze that amount (or less) into the cupcake. This little technique allows you to keep everything consistent, since you can't see how much marshmallow filling is actually in the center of each cupcake.
Take your time when icing the curlicue pattern: try to pipe the circles so that the edges touch each other.
OK, enough already! Time to dive in to discover that always-exciting cream center.
Homemade Hostess Cupcakes

From Anna Monette Roberts, POPSUGAR Food
Ingredients
For cake:
1/3 cup cocoa powder
1 cup all-purpose flour
3/4 teaspoon baking powder
1/4 teaspoon baking soda
1/4 teaspoon salt
1 stick salted butter
3/4 cup sugar
2 eggs
1 teaspoon vanilla extract
3/4 cup milk
For marshmallow filling:
1 egg white
1/8 teaspoon cream of tartar
1/3 cup water
1/3 cup sugar
1/4 cup light corn syrup
Pinch of salt
1 teaspoon vanilla
For ganache:
1/2 cup heavy cream
1/2 cup semisweet chocolate chips
1 tablespoon salted butter
Directions
To make cake: Preheat oven to 350ºF. Line cupcake tin with cupcake liners. In a medium-size bowl, sift cocoa powder, flour, baking powder, baking soda, and salt, then whisk ingredients until well-combined. Set aside.
In bowl of stand mixer fitted with whisk attachment, beat butter and sugar together on medium-high speed until light and fluffy, about 2 minutes. Add eggs, one at a time, until thoroughly mixed, then add vanilla extract. Reduce speed to medium and alternate between beating in milk and flour mixture in 1/3 increments. Divide batter equally between cupcake liners. Bake for 15-20 minutes or until toothpick test comes out clean. Let cupcakes sit in tin for 5 minutes, then transfer to cooling rack.
To make marshmallow filling: Thoroughly wash and dry stand mixer bowl and whisk and return them to stand mixer. In bowl of an electric mixer fitted with whisk attachment, beat egg white and cream of tartar over medium speed until soft peaks form. Meanwhile, in a small saucepan, combine water, sugar, corn syrup, and salt. Cook over medium heat, stirring often, until a candy thermometer reads 240ºF. Immediately remove from heat.
Turn stand mixer speed to low, and slowly drizzle hot syrup over the soft-peaked egg white. Try to avoid pouring it directly onto the whisk; instead aim for the side of the bowl. Then increase mixer speed to medium-high and beat for 5-6 minutes, or until mixture looks thick, fluffy, and glossy. Add vanilla and beat about 1-2 minutes. Transfer 2/3 of marshmallow cream to a pastry bag fitted with a star tip. Transfer remaining 1/3 of marshmallow fluff to a separate pastry bag fitted with a small round tip. Set both pastry bags aside.
To make ganache: Place heavy cream in a small saucepan over low heat and cook until small bubbles form on the side. Immediately remove from heat. Place chocolate in a small bowl. Pour warm cream over chocolate and wait 2 minutes, then whisk mixture until smooth and emulsified. Whisk for another 2 minutes, to cool ganache slightly, then whisk in butter until butter melts completely. Refrigerate ganache until ready to assemble cupcakes.
To assemble: When cupcakes are completely cool, hold star tip of pastry bag full of marshmallow filling and push it into the center of each cupcake. Squeeze bag to fill each cupcake until it swells but does not crack or overflow. Wipe off any extra cream off the top if necessary using an offset spatula (or a butter knife). Once ganache becomes cool and thick, remove from refrigerator and spoon about 1 tablespoon over each cupcake. Use an offset spatula (or a butter knife) to carefully spread icing over cupcake tops. Use a pastry bag fitted with a round tip to pipe a squiggly curlicue pattern of marshmallow cream across tops of cupcakes.
Information
Category

Desserts, Cupcakes

Cuisine

North American

Yield

Makes 12 cupcakes