Homemade Nutter Butter Cookies
Recently, I was treated to a box of Bouchon Bakery goodies with a gigantic Nutter Butter cookie in the box. Everyone knows the famous peanut-stamped cookie with peanut-butter-cream filling from their childhood, and this homemade version was delightfully gourmet. While I remember that Nutter Butters were delicious, these cookies, made by culinary legend Thomas Keller, were absolutely heavenly! After a quick search, I came across the exact recipe and decided to experiment with my own Nutter Butter cookies. The recipe is easy, but requires time and patience. However, anything with this much butter is worth the wait! To learn how to bake these creamy, crunchy, and peanut buttery cookies,
.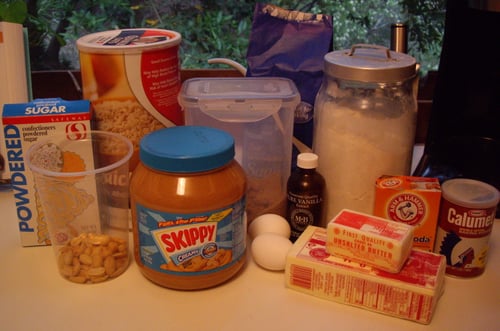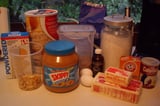 Ingredients
Cookie Dough
2 cups all-purpose flour
2 teaspoons baking powder
4 teaspoons baking soda
1 pound (4 sticks) unsalted butter, at room temperature
2/3 cup creamy peanut butter, preferably Skippy
1 cup granulated sugar
1 cup firmly packed light brown sugar
2 large eggs
1½ teaspoons vanilla extract
1/3 cup coarsely chopped peanuts
2½ cups quick-cooking oats
Filling*
¼ pound (1 stick) butter, at room temperature
½ cup creamy peanut butter, preferably Skippy
1 2/3 cups confectioners' sugar
Directions
Make the cookie dough: preheat the oven to 350°F. In a bowl, mix together flour, baking powder, and baking soda. Set aside. Using a mixer with a paddle attachment, cream together the butter and peanut butter. Add sugars and beat at medium speed for 4 minutes, scraping down bowl twice.

At low speed, add eggs and vanilla. Add flour mixture and beat at low speed until well mixed, frequently scraping down bowl. Add peanuts and oats, and mix well.

Using an ice cream scoop 2 inches in diameter or a tablespoon to ensure the cookies are the same size, place balls of dough on parchment-lined baking sheets at least three inches apart.

Bake until cookies have spread and turned very light golden brown, about 10 minutes. Remove from oven and set aside to cool and firm up, 5 to 10 minutes. Transfer to a rack to cool completely before filling.

For the filling: cream together butter, peanut butter and confectioners' sugar using an electric mixer until very smooth.

To assemble spread a thin layer of the filling on underside of a cookie and sandwich with another cookie
Makes 12 gigantic or 36 smaller cookies.
*Your cookies might require more filling. I made one and half times the above recipe.
Information
Category

Desserts, Cookies