Homemade Sprinkles Recipe
Homemade Sprinkles Are Exclamation-Worthy!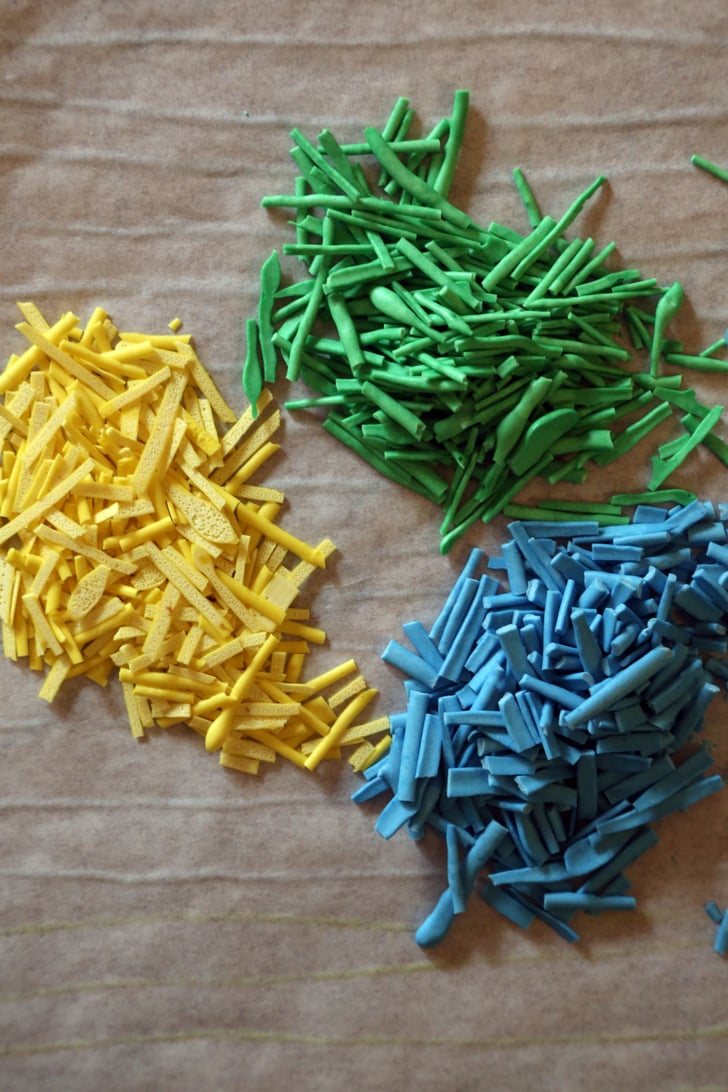 Sprinkles may seem like an elusive confection that can only be bought at a grocery store, but what if you could learn the secret of creating your own at home? Enter in a recipe for homemade sprinkles in the new cookbook Sprinkles!: Recipes and Ideas for Rainbowlicious Desserts by Jackie Alpers. Her method of sprinkle-making is fascinating and fairly easy.
These jimmies, as they're affectionately called, use a royal icing base. The icing dries to create the sheen and crunch factor that we love in sprinkles. I divided the batch into a few bowls and generously dyed them an assortment of colors. When adding food coloring, keep in mind that when the sprinkles dry, they will be lighter in color than the icing itself.
Transfer the icing to piping bags, fitted with a round No. 1 or No. 2 tip, or for faster piping, try this handy multiopening tip. I recommend using parchment paper or wax paper, as nonstick silicone mats will leave a hatch-mark pattern on the bottom of the sprinkles once they have dried. Take a closer look at the yellow sprinkles to see what I mean. Once the sprinkles have dried, cut them using a knife or simply break them up using your hands. You will have several cups' worth of sprinkles . . . quite possibly enough to last you three or four sprinkle-packed cupcake batches.
In addition to this recipe, the cookbook also features pages of other flawless sprinkle-studded recipes, including a recipe for "confetti layer cake," a spongy white cake with rainbow sprinkles swirled into the batter, as well as an atypical buttercream frosting that calls for the addition of whipping cream, resulting in a lighter texture.
"Happiness is rainbow sprinkles," the introduction of the book declares, and I quite agree. Sprinkles make life much more radiant.
Prepare to enter sprinkle heaven.
Notes
Jimmies are made from royal icing that has been piped out in long, thin, spaghetti-like rows onto a nonstick surface. Once the rows have dried completely, they are chopped into small pieces.
Ingredients
4 cups confectioners' sugar
2 pasteurized egg whites
2 tablespoons warm water
1/2 teaspoon pure vanilla extract
1/8 teaspoon salt
Food coloring of your choice, optional
Directions
Line a large work surface with a sheet of wax or parchment paper. Sift confectioners' sugar into a large bowl. In a small bowl, whisk together egg whites and warm water until mixture is thoroughly combined and foamy. Whisk in vanilla extract and salt. Add egg mixture to confectioners' sugar and whisk until smooth. If needed, add more water, just 1/2 teaspoon at a time, until icing is very thick and smooth but still able to be piped. Fold in food coloring, if using.
Transfer icing to a piping bag fitted with a small round tip (usually called a No. 1 or No. 2 tip). With a steady hand, pipe long lines of icing in rows all over the papered work surface. Let icing dry completely, undisturbed, for 24 hours! (Don't cheat — for this crazy experiment to work, the icing lines must be thoroughly dried.)
Use a sharp chef's knife to chop dried icing into small bits. Store, refrigerated, in an airtight container for up to 2 weeks.
Information
Category

Desserts, Candy

Cuisine

North American

Yield

Makes about 2 ounces