Homemade Tortilla Chips
Tortilla Chips Two Ways: Fried and Baked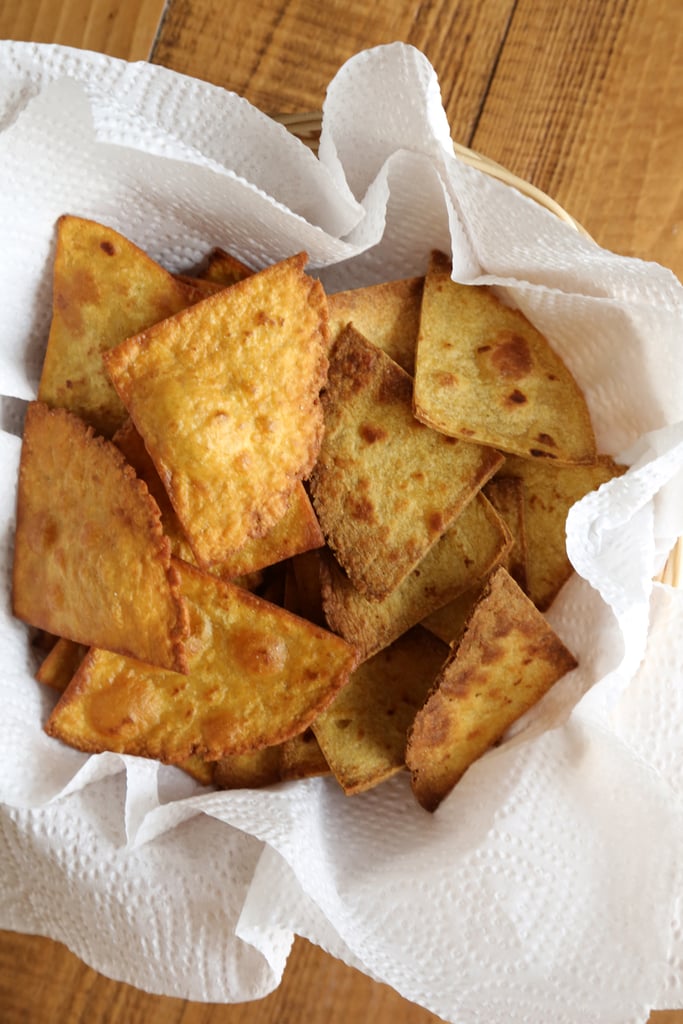 How do you prefer your tortilla chips? Puffed from the fryer and slightly flaky, or crunchy and dense from a trip to the oven? Good news: in less than 30 minutes, you'll have your chips both ways, thanks to two simple techniques.
To bake the chips, generously oil and salt them, then bake them for about 20 minutes, or until they crisp up and are firm to the touch. These chips will stay fresher for longer than the fried variety.
While you're frying, tend to the chips closely, because they only take a few minutes and the heat may need adjusting while you're frying. These chips tend to go stale after a few hours, so plan to make them right before you eat them.
Serve the chips with your favorite queso dip, salsa, or guacamole.
Keep reading for the recipe.
Baked and Fried Tortilla Chips
From POPSUGAR Food
Ingredients
8 corn tortillas (1 package), cut into fourths
1 spray can of high-heat oil, like canola
1 1/2 cups high-heat oil, like canola
Salt, to taste
Directions
To bake chips: Preheat oven to 375ºF. In a bowl, coat half of the package of tortilla fourths with canola oil spray. Toss to make sure everything is thoroughly coated, then spread tortillas apart on a baking sheet. Sprinkle with salt. Bake for 20-24 minutes, flipping halfway during bake time, until chips are golden and crisp. Allow chips to cool slightly before serving
To fry chips: In a medium-size saucepan, heat canola oil over medium heat. When it begins to shimmer, add 4 pieces of tortilla. The oil should bubble around the chips, otherwise the oil is not hot enough. Cook for 2 minutes, flipping halfway, until chips are golden brown. Remove from heat and place on paper towels to absorb extra oil. Sprinkle with salt. Serve immediately.
Makes 32 tortilla chips.
Information
Category

Other, Snacks

Cuisine

Mexican