Honey-Baked Nectarines
Off the Bookshelf: Honey-Baked Nectarines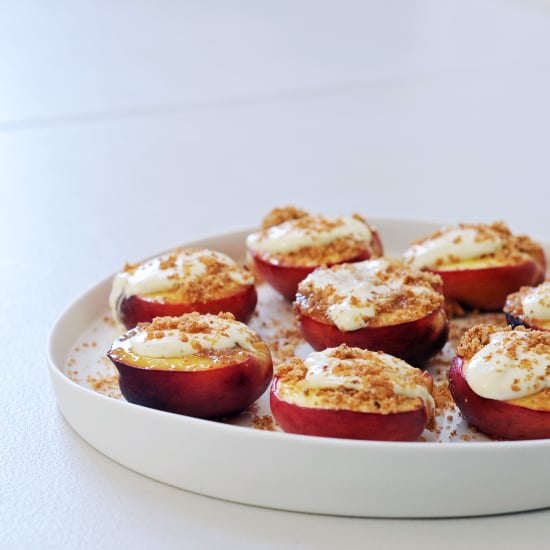 Perfectly ripe and juicy nectarines, peaches, and other stone fruit practically beg to be eaten by the bushel out of hand. But when a bowl of still-firm fruit sits in my kitchen, the wait for them to hit their sweet spot can be agonizing. Enter What Katie Ate, an inspiring Australian food blog and now a gorgeous cookbook by the same name — with an elegant (and easy) solution.
Nectarines transform from tough and overly toothsome to sweet and succulent when halved, drizzled with honey, and baked in a hot oven until tender. This brief turn in the oven is truly all that's needed to boost their flavor, but a sprinkling of almond praline and vanilla crème fraiche makes for an extraspecial touch. Serve them as dessert, for brunch, or at any time of day really; just make sure you try them while these glorious gifts of nature are in season. Once you're done devouring your fill, take a gander at what else lies between the pages of Katie Quinn Davies's What Katie Ate — it'll be worth your while.
Get the must-make recipe.
Ingredients
10 ripe nectarines or peaches, halved and pits removed
1 tablespoon honey
1/2 cup toasted almonds
2/3 cup granulated sugar
Kosher salt
1 cup crème fraiche or sour cream
1 vanilla bean
Directions
Preheat the oven to 400°F.
Place the peaches, cut side up, on a baking sheet lined with parchment paper and drizzle with honey. Bake for 20-30 minutes, or until softened.
While the peaches are baking, place 3 tablespoons water and the sugar in a deep, heavy-bottomed saucepan and bring to a boil — do not stir, but rather, swirl the contents of the saucepan occasionally. Reduce the heat to medium, then simmer for about 15 minutes, or until the sugar has dissolved and the syrup begins to turn a light golden brown. Quickly remove from the heat and evenly pour over almonds laid out on a parchment-lined baking sheet. Sprinkle with a pinch of salt and allow to cool, then grind to a coarse texture in a food processor.
Split the vanilla bean in half from end to end and scrape the seeds out into a small mixing bowl. Add the crème fraiche or sour cream and whisk until the seeds are evenly distributed.
Remove the peaches from the oven and spoon some praline into the center of each. Top with vanilla crème fraiche and sprinkle with a little extra praline; serve warm.
Information
Category

Fruit, Desserts

Cuisine

North American

Yield

Serves 6-8.