Honey Barbecue Chicken Wings Recipe
The Wide World of Wings: Honey Barbecue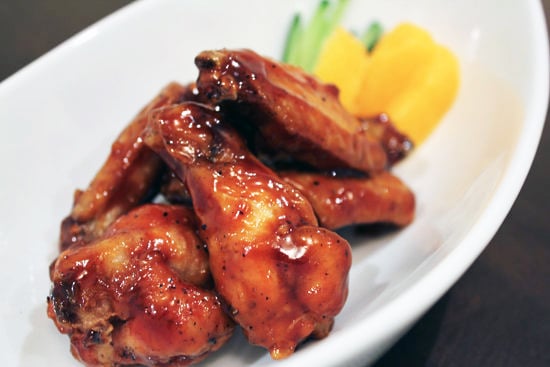 Buffalo wings may be the king of game-day chicken parts, but barbecue wings sure give poultry royalty a run for its money. There's a reason this American classic is a food-festival mainstay: often containing a plethora of ingredients, it goes hand in hand with any meat, and there are about as many versions of barbecue sauce as there are people making them, resulting in an endless taste test for barbecue lovers.
I love slow-smoked brisket slathered in a sauce smoldering with heat, but when I dress up chicken, nothing beats a zesty-sweet honey barbecue. This recipe packs a flavor punch with mustard, hot sauce, soy sauce, ketchup, and cider vinegar tempered with soothing honey and orange juice. It's quite a long list of ingredients, but I'll bet you already have most of them in your pantry and refrigerator, and the sauce comes together quickly on the stove while you prep your other pregame eats. And for those of you cringing from memories of KFC's gloppy, gluey sauce, rest assured that you will be licking your fingers for all the right reasons. Read on to get the recipe.
Ingredients
18 whole chicken wings (about 4 pounds)
2 garlic cloves, minced
1 tablespoon canola oil, plus more for frying
1/2 cup honey
1/4 cup ketchup
2 tablespoons orange juice
2 tablespoons lemon juice
2 tablespoons reduced-sodium soy sauce
2 teaspoons ground ginger
2 teaspoons cider vinegar
1 teaspoon Worcestershire sauce
1 teaspoon Dijon mustard
1/4 teaspoon pepper
1/4 teaspoon hot pepper sauce
Kosher salt and freshly ground black pepper
1 tablespoon flour (plus more if necessary), for dredging
1 tablespoon cornstarch (plus more if necessary), for dredging
Directions
Remove the tips of the wings and discard or save for making stock. Using kitchen shears, or a knife, separate the wings at the joint. (See how to prep wings for appetizers.) Rinse wing parts under cold water, and pat dry with paper towels. Lay wings in a single layer on a wax paper-lined baking sheet, and place in the refrigerator (uncovered) for one hour.
Meanwhile, in a small saucepan, saute garlic in 1 tablespoon oil for one minute. Stir in the honey, ketchup, juices, soy sauce, ginger, vinegar, Worcestershire sauce, mustard, pepper, and hot pepper sauce. Bring to a boil. Reduce heat. Simmer, uncovered, for 15 minutes. Remove from the heat. Cool to room temperature and transfer to a wide bowl.
Heat the oil in a Dutch oven over medium heat. Remove the wings from the refrigerator and season on all sides with salt and pepper. Place about a tablespoon each of flour and cornstarch in a large clean plastic bag,

seal

, and shake gently to combine. Working in batches, drop a few chicken wings in the bag, and toss to coat with flour mixture. Shake off the excess before dropping each wing into the hot oil, and fry until golden brown, turning occasionally, about five to seven minutes. Replenish the flour mixture in the bag as needed.
Transfer fried wings to a wire rack placed over a rimmed baking sheet. When wings are cooled slightly but still warm, drop into the bowl of honey barbecue sauce and toss to coat. Serve immediately.
Makes 36 wing pieces.
Information
Category

Poultry, Appetizers

Cuisine

North American