Hot and Cold Butterbeer Recipe
Harry Potter's Butterbeer Made With Actual Butter and Beer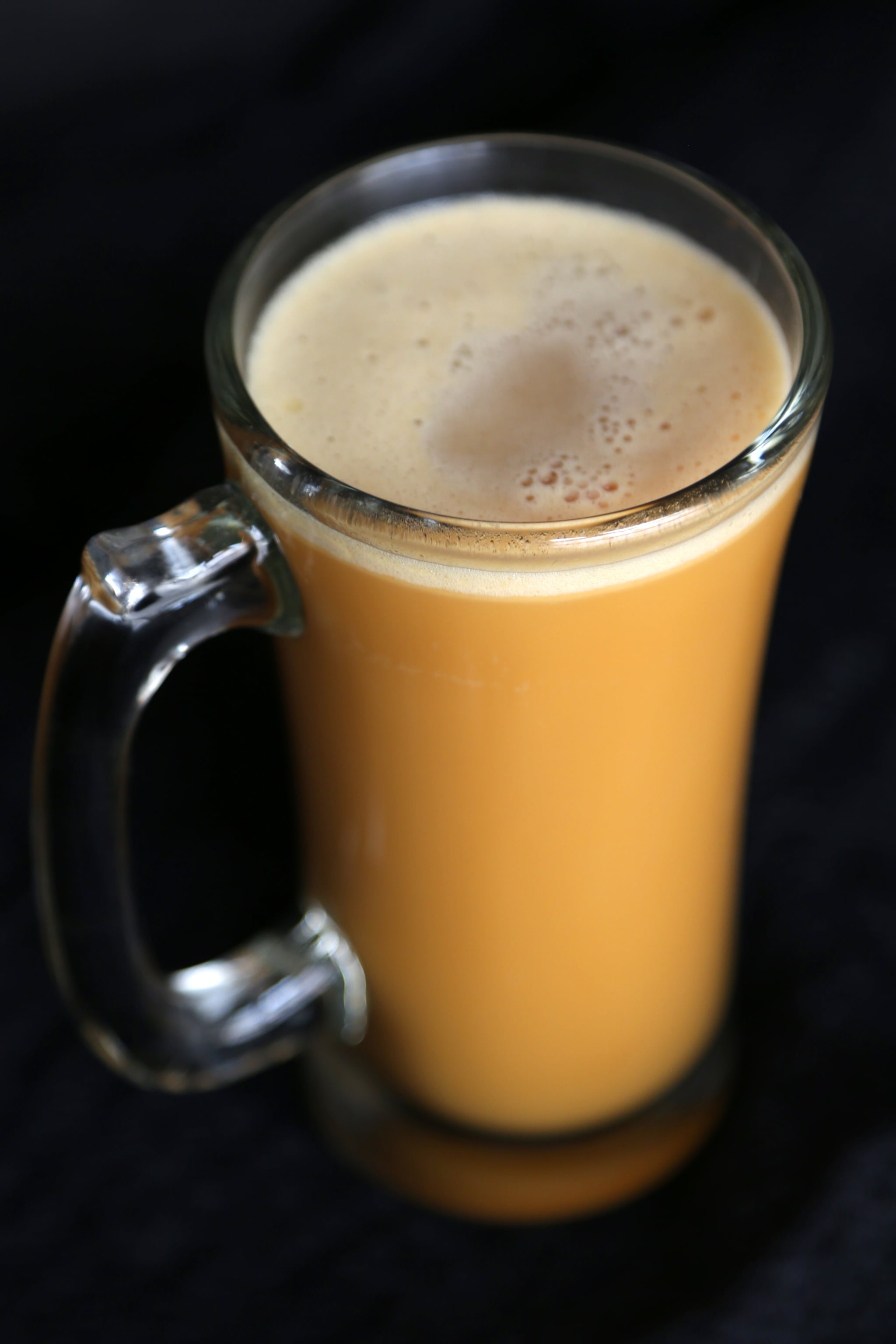 Source: POPSUGAR Photography / Anna Monette Roberts
In the Harry Potter books, Butterbeer is described as a slightly alcoholic, "foaming mug" that tastes "a little bit like less-sickly butterscotch." While there are lots of Butterbeer renditions out there — mostly consisting of heavy cream, spices, and butterscotch soda — I wanted to make one containing actual butterscotch and beer. I wanted it to have natural buttery flavor and a rich, hefty body. After all, it's Winter and we need something other than sugary soda water to keep warm!
Source: Warner Bros.
In the movies, the Butterbeer looks slightly orange with a slight foamy cap. Served in a clear, glass mug, it looks inviting whether cold or warm.
Source: POPSUGAR Photography / Anna Monette Roberts
For this Butterbeer recipe, I chose a pumpkin ale. Ale itself is thick, foamy, and full of sweet, malty flavors, while the pumpkin offers the beautiful orange hue and hint of Fall spices. Combine that with homemade butterscotch sauce, and you've transformed an ordinary Muggle drink into a magical "wizarding beverage." Now, if only we could make merry inside Three Broomsticks . . .
Notes
The recipe only makes enough for one, but it can easily be made in large batches and served at Halloween parties. I recommend serving the hot version in a slow cooker so it stays warm.
Directions
To make hot Butterbeer: In a small saucepan over medium heat, combine beer and 3 to 4 tablespoons butterscotch sauce. Whisk occasionally, and cook until beer just begins to boil. Taste, and adjust with more butterscotch if necessary. Transfer to a mug.
To make cold Butterbeer: Pour cold beer into a blender. As blender is running, carefully pour butterscotch in a steady stream. Blend until just combined. Avoid overblending (which can flatten the beer). Taste, and blend with more butterscotch if necessary. Transfer to a mug.
Information
Category

Drinks, Hot Drinks

Cuisine

English/Scottish/Irish

Yield

1 large mug

Total Time

4 minutes, 59 seconds