Hot Muffuletta Sandwich Recipe
Celebrate Mardi Gras With Muffuletta Paninis
Fat Tuesday is tomorrow and even if you live far from New Orleans, you can get into the spirit of things by making this seriously scrumptious sandwich. A muffuletta is a thick sandwich with layers of Italian meat, cheese, and olive salad. Traditionally muffulettas are served cold on a round roll. However, this ingenious recipe (sometimes you have to love Rachael Ray — she does sandwiches right!) treats the muffuletta like a grilled cheese.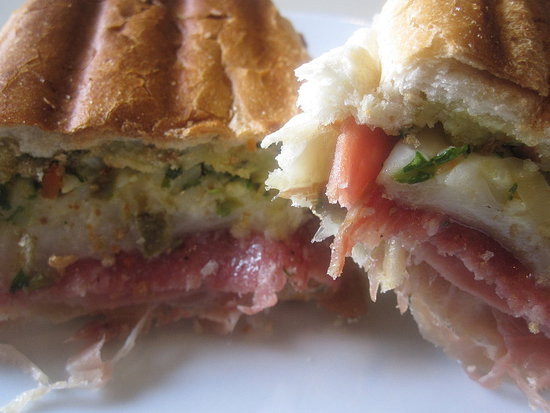 I took it one step further and made it into a panini. The bread becomes toasty and crisp, the cheese melts and oozes, the meat is juicy and delicious, and the giardiniera mixture is hot with a fiery crunch. It's a spicy full-flavored sandwich with lots of attitude. You simply must make this sandwich! Why? Because YumSugar called it the best thing she ate all week. For the recipe, please read more.
Ingredients
1 cup giardiniera (Hot pickled vegetable salad), drained
1 cup packed baby arugula leaves
1/4 cup pitted green olives
8 slices pullman-style white bread
4 tablespoons butter, softened
8 thick slices provolone cheese
8 thin slices prosciutto cotto or boiled ham
8 thin slices hot soppressata*
8 thin slices genoa salami
Directions
Using a food processor, grind the giardiniera, arugula and olives.
Coat 1 side of the bread slices with the butter. Build each sandwich as follows: a bread slice (buttered side out), giardiniera relish, a cheese slice, 2 prosciutto slices, 2 soppressata slices, 2 salami slices, another cheese slice, more relish and another bread slice (buttered side out).
Preheat a griddle or cast-iron skillet over medium heat. Add the sammies and cook, turning once, until the cheese melts, 6 to 8 minutes. Alternately, cook in a panini maker on medium low heat for 12-15 minutes, until the bread is toasted and the cheese is oozing.
Makes 4 sandwiches.
*My grocery store did not have soppressata, so I used mortadella instead.
Information
Category

Main Dishes, Sandwiches

Cuisine

North American