Household Supplies Review: Bread Armor Bags
Tried and Tested: Bread Armor Bags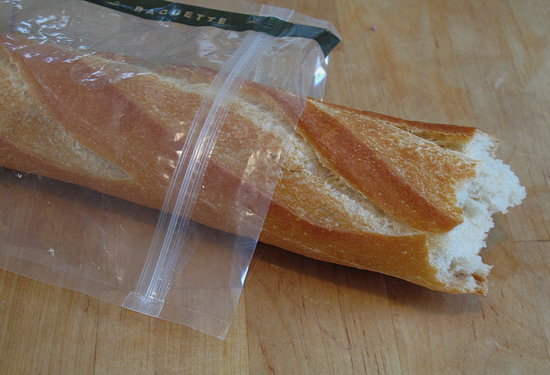 While at the Fancy Foods Show earlier this year, an interesting product by the name of Bread Armor caught my eye. The concept? Reusable, resealable, recyclable bags designed to keep fresh-baked breads for up to two weeks. I've been on a daily bread kick but often find my bread rock-hard the next morning. Could this invention potentially be the breakthrough answer I was looking for? More when you keep reading.
Armored with the motto "guarding your grain," the storage bags ($2.99 for two bags) are made of an FDA-approved barrier film that's designed to keep oxygen and moisture out up to 30 times better than an ordinary plastic resealable bag. It's also created to fit different breads, with sizes for baguettes, ciabatta breads, and larger French loaves. I put a baguette bag to the test with an Acme Bread Sweet Baguette.
Sure enough, the next day it wasn't hard at all. On the contrary, it was soft, flaccid, and completely devoid of its satisfying outer crunch. I'd placed many hopes on this new product, but sadly, it hadn't turned out to be the best thing since sliced bread. Have you ever tried Bread Armor or a similar concept?