How to Arrange Kebab Skewers
5 Prep Tips to Perfecting Your Kebabs
Is this your first Summer to face a grill? If so, don't be afraid to face the coals head-on: we've got you covered with a new series, BBQ U, where we coach you on all the fundamentals of grilling, and then some. Today we're tackling skewers, which, if you've never tried, are worth taking a stab at; after all, just about everything seems to taste better on a stick.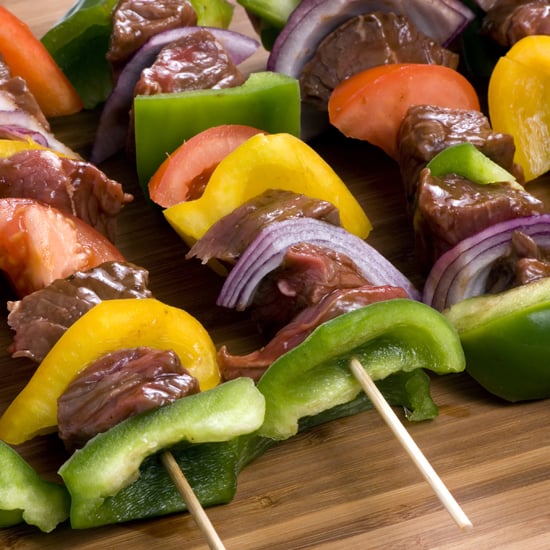 Kebabs are a barbecue staple, but it's important to be diligent in the prepping process. No matter how good the ingredients, seasoning, or sauce, if the ingredients are not properly cut and arranged, the kebab will not cook evenly and thoroughly on the grill. If you've experienced issues in the past or are new to kebab making, these five tips will help you perfect your prepping technique.
Soak the skewers: Always soak wooden skewers before loading them up with vegetables. It will ward off splinters as you load them up with veggies, plus it prevents skewers from burning or catching on fire prematurely. Simply soak them in water for half an hour to an hour as you chop the veggies.
Cut similar-sized shapes: Just as with other methods of cooking, the pieces of veggies and meat will cook at different rates if they are not the same size. Whether it's a mushroom or a piece of meat, make one item on the skewer the designated size, usually about an inch, and cut the other vegetables the same size.
Mix it up: Alternate the different ingredients for a colorful presentation and combo of flavors with every bite.
Flat-sided arrangement: When piercing the items through the skewer, align them so that every piece on the skewer touches the surface. This will ensure that every item chars a little on the grill.
Leave spaces in-between: Bunching up all of the ingredients, makes it really difficult for the items to thoroughly cook. Instead, leave a little space (like 1/4 inch), so the flames can lick in-between the vegetables and meat.