How to Brew Coffee at Home Tips From Starbucks
Learn the Starbucks Fundamentals to Home Coffee Brewing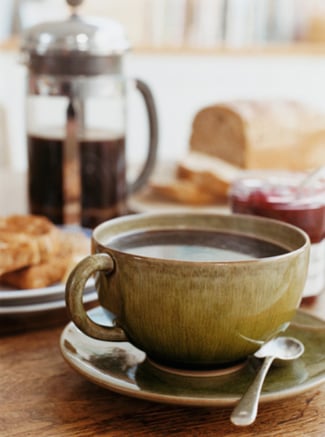 Are you a Starbucks regular who's vowed to start saving money and making your own coffee at home instead? If so, there are still a number of ways you can ensure you've made the perfect cup of coffee, even by Starbucks standards.
I enlisted the help of Certified Starbucks Coffee Master Zach Mercer, who outlined the company's fundamentals for home brewing.
According to Zach, all you've got to do is keep in mind that there are four important factors that affect the quality of your home brew. Find out what they are, and keep reading to see his recommendations for making coffee at home.


Water. Source the best H20 you can find. At any given Starbucks, water goes through a triple filtration process as a baseline; use filtered water whenever possible.
Proportion. The general guideline is 10 grams of coffee (about two good tablespoons) to six ounces of water. Zach's done the math: this equals about 0.12 pounds of coffee for a standard French press.
Freshness. Once open, Starbucks recommends using a bag of roasted coffee beans within seven days. At Starbucks stores, Clover coffee beans are stored in an airtight container, and Starbucks coffee bags have a one-way air valve that enables Starbucks to ship coffee anywhere. Squeeze the package to smell gases.
Grind. Once your roasted coffee beans have been ground, they should be used immediately — otherwise, just like wine, they begin to oxidize. The brewing process will determine the coarseness of the grind: French press coffee is the coarsest, followed by drip coffee, espresso, and ultra-finely ground Turkish coffee. Zach strongly recommends getting a coffee grinder for your home, and recommends a Burr grinder for the most consistent ground size.
The biggest tip I learned from this Starbucks Coffee Master? In a pinch, bring any nonflavored coffee — Starbucks brand or not — into a Starbucks store, and they'll grind it for you for free. Have you ever tried this? What are your proportions and tips for home brewing?