How to Brew Oolong Tea
5 Tips For Making Oolong Your Pot of Tea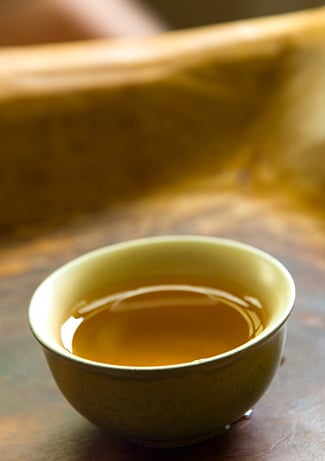 After learning the fundamentals of coffee brewing and the right way to taste coffee, I figured it was high time I took the same care into understanding that other hot caffeinated beverage, tea.
Like coffee, the all-encompassing category of tea includes everything from the most basic and low-quality to the really expensive, high-end stuff. One of my personal favorites is oolong ("black dragon") tea, a partially oxidized, semi-fermented tea that has a storied history in Chinese and Taiwanese tea culture. Truly fine oolong is made from unique plant cultivars that are picked, left out to wither in the sun, partially fermented, roasted, then rolled or twisted and dried. Depending on their variety and level of fermentation, oolongs can range in flavor and aroma from warm and nutty to sweet, fruity, and floral.
To further enhance my appreciation for oolong, I spoke to tea expert Lawrence Lai, who founded Naivetea, currently the only company in the country to focus on Taiwanese oolong teas. Keep reading for his suggestions on how to embrace America's latest tea trend.
New to oolong? Begin with a fruit-infused version. If you're unfamiliar with the world of oolong teas, Lawrence recommends starting with a fruit-infused flavor, because it offers something refreshing yet familiar. Be sure, however, to look for infused oolongs that are made by allowing tea leaves to slowly absorb natural fruit flavors using the traditional, artisanal technique.
Quality oolongs, however, are best enjoyed warm. "Our experience is that once you start drinking fine, pure oolongs, those are the only ones you will want to drink hot," Lawrence said. Drinking them at a higher temperature allows you to fully appreciate their complexity and quality.
Observe the tea as it steeps. Lawrence suggests placing tea in a clear teapot on the table, so enthusiasts can discern how the leaves unfurl and water changes color as it steeps. Unfurled leaves, according to Lawrence, should all look uniform in shape and color if they are of high quality.
Note that the best oolong teas won't get bitter when oversteeped. Fine tea leaves do not develop the tannic, stringent, bitter flavors associated with oversteeped tea; rather, they'll merely develop a more intense flavor.
The greener the tea, the lighter the food pairing should be. Less fermented or "greener" oolong teas have a delicate flavor profile that can be overpowered by bolder flavors. On the flip side, a heavily fermented tea has more aggressive flavors that can match stronger flavors.
Some of Lawrence's tips — like the one about quality leaves not developing bitterness, even when oversteeped — came as complete news to me. Are you an oolong tea drinker?
Source: Flickr User abon