How to Care For Cast-Iron Cookware
How to Care For Your Cast-Iron Cookware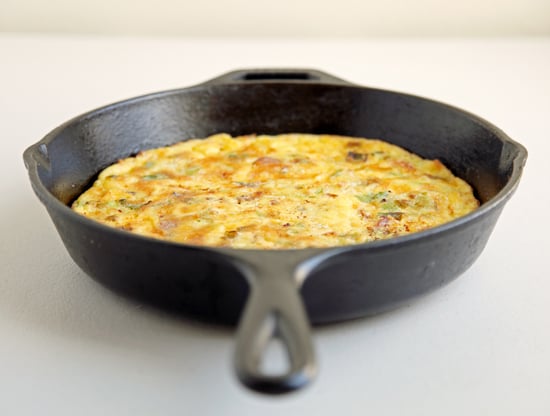 Cooking with cast iron can be intimidating — not to mention heavy — but once you try it, it's easy to become a convert. I love my pan for indoor grilling and making skillet breads; it distributes heat incredibly evenly. Cast-iron pans can even help boost your iron intake. Most importantly knowing how to care for your cast-iron cookware is key to making sure you're able to reap the benefits over its lifetime.
But be warned: you can't treat cast iron like any old pot. To make sure it lasts as long as possible — basically, forever — you have to do some things differently. Before using your cast iron for the first time, you need to "season" it. This process will protect your pan's surface from moisture and rust. Find out how to care for cast iron.
First, wash the pan rigorously with soap and hot water and dry it completely with a towel. Then, coat the entire surface inside and out, plus the handle, with vegetable shortening such as Crisco.
If your cast iron's labeled as preseasoned, it won't require breaking in.
When the pan is oiled, place it upside down in a 350ºF oven for at least one hour; you might want to place aluminum foil at the bottom to catch any oil drippings. After an hour, turn the oven off but leave the cast-iron pan inside until it's completely cool.
If necessary, give the cooled pan another cleaning, without soap, to get rid of the excess oil. After drying, use paper towels to coat the surface with cooking oil before storing somewhere cool and dry. The oven is a great option.
Never wash your cast-iron pan with soap, place it in a dishwasher, or leave it soaking in the sink. The best method is to clean it with hot water using a stiff scrubber or brush. If there is food stuck to the surface, place some water in the skillet and boil the water on the stove for a few minutes.
Always dry your pans thoroughly, rather than letting them air-dry, to prevent rusting.
Photo: Nicole Perry