How to Care For Stainless Steel Cookware
The Right Way to Care For Stainless Steel Cookware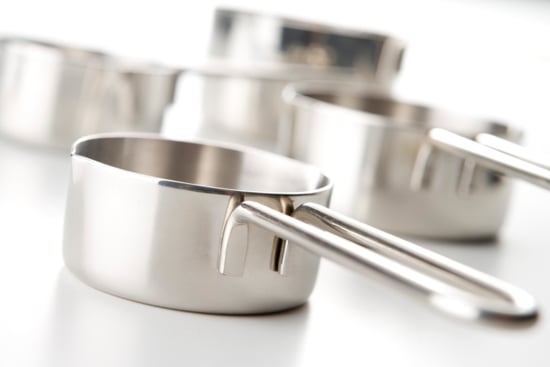 I live and die by my All-Clad d5 Stainless Steel pots and pans, which I use for making just about everything. But the other day, while tackling some stuck-on food that was particularly stubborn, I consulted the computer to verify the correct way to clean my cookware. And guess what? I've been cleaning them all wrong! Cleaning stainless cookware, it turns out, involves a little extra TLC. Put that scouring pad away, and find out the right way to preserve your quality pots and pans, when you read on.
It's okay to throw those pots in the dishwasher! While not all cookware materials are dishwasher-safe, stainless steel typically is.
Clean it gently. Lay off the steel wool, scouring pads, or harsh chlorine detergents, as they can scratch and penetrate the surface — although nylon-scrubbing pads are OK.
How to clean by hand the recommended way. Immerse your pan or pot in warm water. Using water and a fine powder cleanser (such as dishwasher detergent), form a loose paste. Apply the paste using a soft cloth, rubbing in a circular motion. Wash in hot soapy water. Also recommended by stainless cookware manufacturers: a cleanser known as Bar Keepers Friend.
Prevent water spots. After washing, rinse in hot water, then dry with a clean towel immediately.
Avoid the pits. You know those small white dots that can sometimes form? Those have a name: "pits." To avoid their formation, bring liquids to a boil and cook food before adding salt. Pitting won't interfere with the performance of your pots or pans; but it can diminish the appearance of your cookware.
Is this how you've been taking care of your stainless steel?