How to Choose and Cook Turnips
In Season: Turnips
Turnips are one of those Winter root vegetables that get little love but can be a truly delicious addition to your next meal. There's little information about their original cultivation, but we do know that back in ancient Rome Pliny the Elder considered the turnip to be one of the most important vegetables of his day. Today, lots of families in the South love stewing up the turnip vegetable or its greens for a warming supper.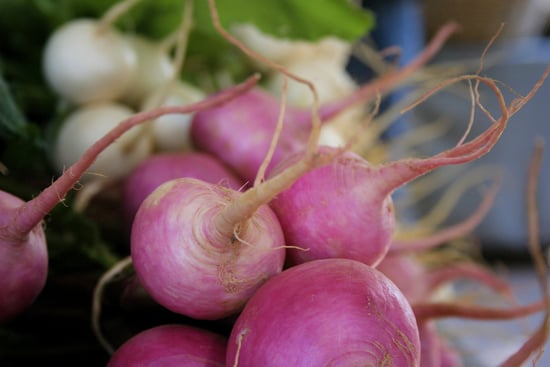 If you've never been exposed to cooking turnips, these guys can be a little tricky to choose. To learn more about the cute little turnip, just keep reading.
When choosing turnips, be sure to go for little guys with smooth skin. They should feel firm and have crisp green tops. The smaller the turnip, the sweeter (and more palatable) the flavor. The bigger bulbs may look more substantial but can prove be a little waxy in texture. Be sure to use a vegetable brush to scrub turnips clean before you chow down. You can add them raw to a yummy salad to bring some crunch, or you can get a little more creative in the way you cook them. Here are a few yummy ideas fit for a turnip-filled meal:
For a simple side, take a tip from chef Mario Batali and go for a helping of roasted turnips.
Test out the turnip's versatility in a tasty soup. This recipe for creamy turnip soup sounds like a perfect way to warm up a weeknight meal.
For a lighter take on traditional decadence, try this turnip gratin recipe from The New York Times.
What's your favorite way to use turnips? Add your thoughts in the comments below!
Source: Flickr User ghirson