How to Clean Expensive Wine Glasses
The Best Way to Clean Expensive Wine Glasses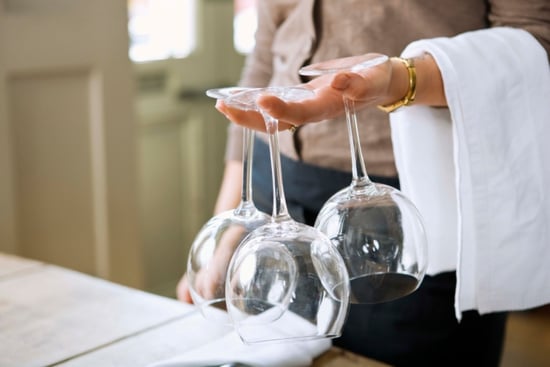 When hosting a dinner party, I like to break out the good china, cloth napkins, and expensive stemware. Although I don't use them everyday, when people are over, I pour wine in Riedel or Waterford glasses. It makes the occasion seem more special. The only downside is having to wash the glasses at the end of the evening. The delicate glasses are easy to break — especially if you don't know the proper technique for washing them. Read on for my tips.
Rinse the glasses immediately after using. If you're tired and want to deal with the aftermaths of a party in the morning, fill the glasses with water and set near the sink. This will ensure that the wine doesn't stain the glasses.
Wash with warm, not hot water.
Fill with water and swirl, several times. Repeat.
The folks at Riedel insist that no dishwasher soap is necessary, but I prefer to add a single drop of soap. Swirl, rinse, and repeat until the glasses are clean.
To remove lipstick marks, scrub gently with a washcloth.
Do a final rinse with cold water and set upside down on a dishtowel to drip dry for a minute.
Dry with a cotton or linen towel (do not use terry cloth).
To polish, steam the clean glasses over a pot of boiling water. Hold the glass by the base and carefully rub with microfiber towels.
When drying the inside of the glass, cradle the bowl of the glass in your left hand and dry carefully with your right hand. Avoid holding from the base because the glass may break.
How do you wash wine glasses?