How to Clean Silver
How to Tackle Silver Tarnish the Lazy Way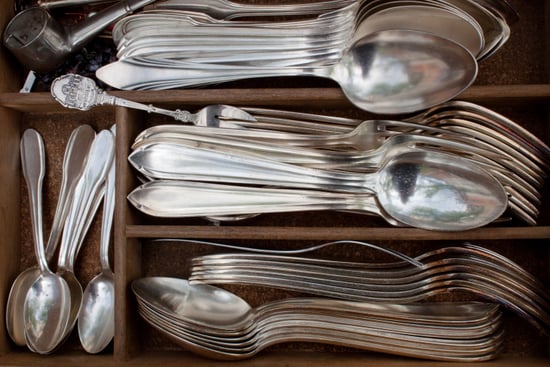 Silver, while a gorgeous addition to the table, has a reputation for being finicky to maintain. Luckily there's an easy solution to tackling tarnish — no trip to the store to procure supplies needed. All you'll need is a large pot, tinfoil, baking soda, water, a pair of silicone-tipped tongs and a soft dishcloth — really, that's it.
The Low-Fuss Procedure
Line the pot with tinfoil. Add a quart of water and 2 tablespoons baking soda to the pot, and bring the solution to a boil.
Working with a few pieces at a time (to minimize scratching) gently lower the tarnished silver into the baking soda solution, let sit for 10-30 seconds, or until the tarnish dissolves. Remove the silver with the tongs; set aside.
Once all of the silver is tarnish-free, rinse each piece with soapy water, and dry with a soft dishcloth.
Keep reading for a few tips and tricks.
Tips and Tricks
If the baking soda solution loses its efficacy, dump it out and start afresh with clean water and baking soda.
To prevent, or at least slow, the return of tarnish, wrap clean, dry silver in a dishcloth and store it all in an airtight container (a resealable plastic bag works well).
Uncovered tongs can scratch delicate silver. Don't have silicone-tipped tongs? Wrap the ends of a pair of metal tongs with rubber bands until all metal edges are covered.