How to Clean Wine Glasses
3 Products to Keep Wine Glasses Looking Squeaky Clean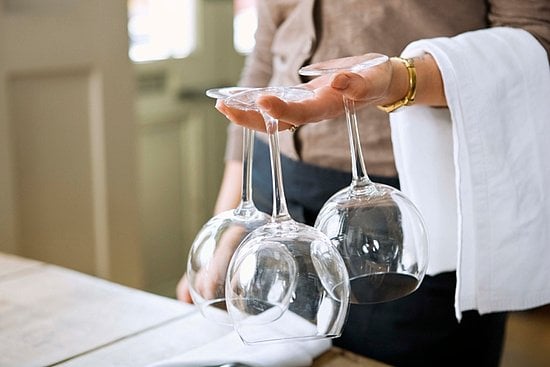 It can be a struggle to keep wine glasses looking as sparkly and clear as the day you bought them. The dishwasher is an absolute no-no, as it runs a greater risk of clouding, scratching, or (worst of all) breaking the glass. For the most effective way to wash the glasses, sterilize them in hot water with a splash of white vinegar, then set them out upside down to air dry. Want to streamline the process? Here are three kitchen tools designed specifically to help with the cleaning, drying, and polishing of wine glasses.
Stemware Cleaning Brush ($8) — This foamy brush will help lift lipstick and sticky red wine residue without scratching or damaging the glass. The elongated shape makes it easy to clean deep inside wine glasses and Champagne flutes. This sponge is also great for tall glasses and flower vases.

Take a look at two more wine cleaning products.
Architec Air Dry Wine Glass Drying System ($15) — Air drying wine glasses upside down is better than drying them with a cloth, because it prevents lint from forming. The downside is wine glasses can fog up and leave water streaks. This nifty wine glass drying rack gives the glasses more air circulation and stores them securely to prevent them from toppling over and breaking.
IMCG Non-Stick Liner Roll ($10) — Sometimes cleaning doesn't remove every smudge, streak, or fingerprint. Once the glasses are dry, polish them with this microfiber cloth that won't leave any lint or scratches behind.
Do you own any special wine cleaning tools?