How to Cook With Clams
In Aspen, Ming Tsai Opens Up About Clams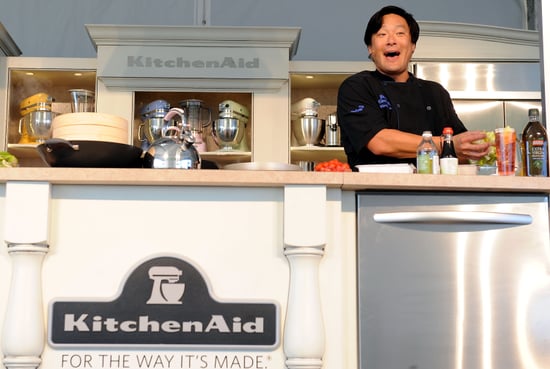 We spotted Ming Tsai at a late-night party in Aspen for the Food & Wine Classic Friday evening — so it wasn't a surprise to find the chef roughing it a little at his early-morning cooking demo the next day. Still, the Next Iron Chef contestant and Blue Ginger proprietor managed to bring his best when it came to wit and cooking skills.
Ming made a number of dishes from his new cookbook, Simply Ming One-Pot Meals, but my favorite was his demonstration of a dish called Clams, Pork, and Jicama, in which he offered up a number of helpful tips that I wasn't familiar with. Follow these bivalve suggestions next time you cook at home, and you'll be happy as a clam. To see them, keep reading.

Clams and pork make a killer surf-and-turf combination. "If you don't eat pork, convert!" he exclaimed.
Before using clams, be sure to purge them. Here's how you do it: Soak clams in water with a few spoonfuls of cornmeal. Allow them to soak for three hours. The cornmeal will pull all the sand from the clams so they're clean and ready to use.
Smell your shells. This will tell you immediately whether or not they're fresh. It's crucial when eating other shellfish, like oysters, in the raw.
Add a drop or two of honey. Just a bit of honey will bring out the sweetness of the shellfish.
In a rush? Hurry clams along. In a pinch, pry clam shells open to help them cook faster.
Don't worry about your clams being undercooked. When they're ready, they'll open. Plus, all shellfish should be fresh enough to theoretically be eaten raw anyway.
Sprinkle clams with avocado to finish. "Avocado is nature's best fat that's not pork," Ming said. "I love it with everything."
Share your home-cooked clam stories below. Are Ming's suggestions new to you?