How to Cook Kohlrabi
In Season: Kohlrabi
It feels like Winter has officially rolled through San Francisco, and the shift in seasons brings a whole new crop of delicious produce at the farmers market. Winter may not feel like the time to be introduced to a new vegetable, but guess again: it's time to meet kohlrabi.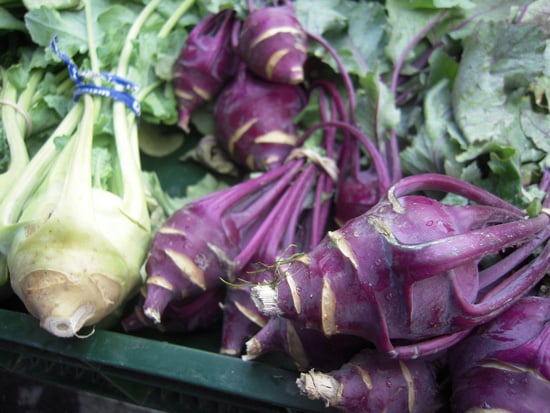 While it's available year-round, kohlrabi really peaks in the colder months. The freaky-looking veg gets its name from the German word for cabbage, "kohl," and the Latin word for turnip, "rapa." It comes in two different hues — one variety has a pale green bulb and the other is purple — but despite their different first impressions, the flesh inside both bulbs is creamy and white with a flavor comparable to a blend of broccoli and celery root. The leaves are also edible! They taste like kale or collard greens, but a little sweeter. Keep reading to learn how to choose and prepare kohlrabi.
When purchasing choose smooth, small bulbs. The littler guys tend to have the best texture and flavor, whereas larger bulbs are not as appetizing when peeled. If the leaves are still attached, they should be firm and fresh. The bulbs will keep up to a week or even longer in the fridge.
Kolhrabi may look a little intimidating at first glance, but they're fairly easy to prepare. All you have to do is peel the bulbs and wash those leaves in cold water. Many people choose to enjoy it raw, but it can also be steamed, boiled, or added to soups. Looking to bring this Winter veg to your table? Here are some ideas:
Source: Flickr User orchidgalore