How to Cook Like a New Orleans Chef
Learn John Besh's New Style of New Orleans Cooking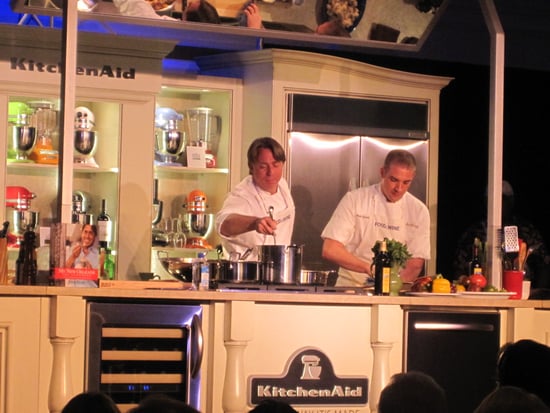 This morning at the Food & Wine Classic in Aspen, chef John Besh took the stage and discussed the new cuisine of his beloved New Orleans. The hands-on chef, who describes his cooking style as "chaotic," cooked up an amazing-looking shrimp and heirloom tomato gumbo, black pepper blue crab, and deep-fried soft-shell shrimp.
He talked about the history of the city and how its wide variety of settlers, from the Spanish to the French to the Vietnamese, added to the colorful cuisine that NOLA is known for. "Everyone that comes to the city adds and leaves something to the food. The Spanish brought the sofrito, the French the roux, the Africans and Native Americans — they all helped build the food of New Orleans."
Besh also provided some tips on how we can incorporate the spirit of NOLA into our own kitchens. Find out what they are, after the break.
Buy seafood from the Gulf Coast. "Buy Louisiana shrimp!" the chef cried enthusiastically, pointing out that it's some of the best shellfish in the world.
Don't throw anything away. Use every part of the shellfish. The shrimp heads and shells make great stock, while crab bodies can be stuffed with crab and breadcrumbs and then baked.
Don't be too concerned with recipes. "I failed home economics because I couldn't follow a recipe. I just can't." Instead, use your instincts as a chef.
Cook with allspice. The seasoning is a staple in New Orleans cuisine and one that brings Besh back to his childhood. "My mom would always add allspice to her shrimp dishes, so now I put a little in mine."
The food doesn't have to be thick and heavy; the new cuisine of New Orleans is "hipper, better, lighter."
Incorporate Asian, particularly Vietnamese, ingredients into your food. "In the 1970s, 30,000 Vietnamese people settled in New Orleans; they've really influenced the way we cook now. There's Louisiana jasmine rice; I cook with lemongrass which isn't a traditional New Orleans ingredient." The chef's fried shrimp were battered in a light rice flour and sparkling water mixture rather than the more typical rich beer batter.
Get a good fish monger. To get the best selection of seafood, seek out and befriend a smart, passionate fish monger. They'll be able to help you get the best shellfish and little-known ingredients, like soft-shell shrimp.
Eat with the seasons and cook with the ingredients that are native to your area.
Are you interested in the cooking style of New Orleans? What's your favorite traditional dish?