How to Cook Steak
How to Grill a Perfect Steak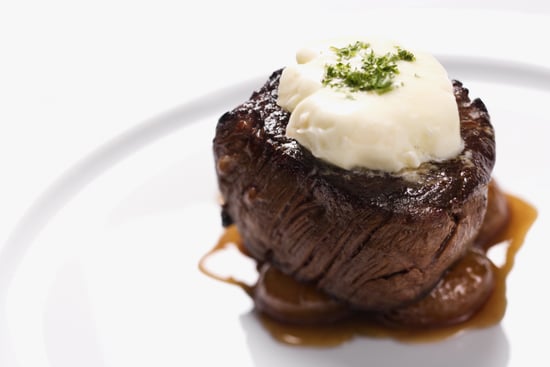 Before Summer is over, why not enjoy a piece of meat at its purest? I'm talking about a perfectly grilled steak! Grilling steak may seem like a no-brainer: you season it and throw it on the barbie, but with a little extra care you can take your steak-making skills to a whole new level. I asked Chef Mark Richardson of MKT Restaurant — Bar, the restaurant at The Four Seasons in San Francisco, to show us how it's done. Glean his technique and tips for juicy, pink medium-rare steak just in time to celebrate National Filet Mignon Day (today, Aug. 13):
Be wise when shopping. Premium steaks come from the rib and loin section of the beef. Speak with your butcher and ask him to point you in the right direction.
Bring the steak to room temperature. Take the steak out of the fridge 20-30 minutes before cooking.
Remove excess moisture. Pat the steak dry with a paper towel before cooking. "Any excess moisture that's sitting on a steak will keep the steak from directly contacting the cooking surface," Chef Richardson notes.
Season well. Season liberally with salt and fresh cracked pepper. "My favorite peppercorn is Tellicherry, which is left on the vine longer, so they develop a deep, rich flavor."
Preheat the grill. Before cooking, heat the grill or skillet to medium high. "I recommend using a heavy frying pan. This will allow a crust to develop when cooking."
Use vegetable oil, not olive oil. Pour a little canola oil into the pan, just to coat the bottom.
Let the steak sizzle. Once the oil is hot, place the steak onto the grill or skillet. "It should sizzle if it's hot enough. Only turn the steak once. For medium-rare, cook two to three minutes per side. For medium, cook three to four minutes per side. Turn the steaks with tongs. Don't pierce it with a fork or the juices will escape."
Let the steak rest. "Last but not least, let it rest five to 10 minutes." This will allow the steak to reabsorb its juices.