How to Cook With Walnuts
Walnuts: Our New Favorite Ingredient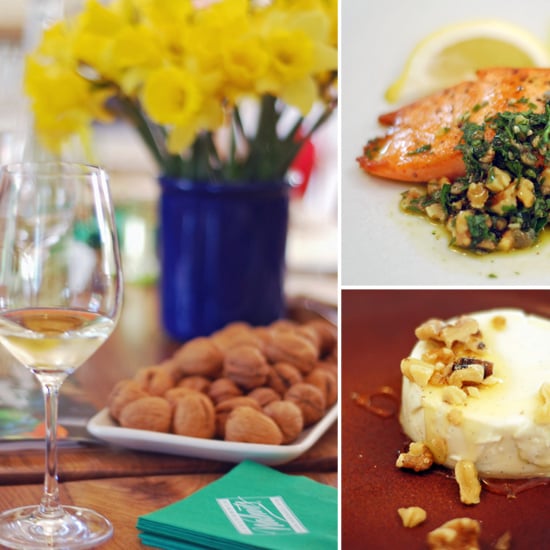 Historically, walnuts haven't been an ingredient that comes to mind often when I'm cooking — I typically eat them out of my hand and in banana bread, but that's about it. But recently, I attended a seminar with cooking host Joanne Weir and the California Walnut Board and Commission, where we enjoyed a walnut-centered lunch. From that broadening meal, I learned so many new ways to incorporate the healthy and delicious nut into more recipes. A few of my favorite takeaways:
Add chopped toasted walnuts to homemade aioli: I enjoyed a dish of roasted asparagus, boiled eggs, and homemade toasted walnut allioli (Spanish aioli) that was transformative. The chopped walnuts added great texture and crunch to the dish, and complemented the garlicky sauce perfectly.
Top pizzas with walnuts: The Spanish pizza we enjoyed was topped with walnuts, bringing a delicious crunch and nuttiness to each bite.
Make walnut butter: Walnut butter is straightforward and simple, and would be great atop crostini as an appetizer.
Add them to salsa verde: Toasted walnuts bring an earthy flavor to a bright, zesty sauce such as Italian salsa verde. We enjoyed it topped on crispy roasted salmon.
Find more ideas for walnuts when you keep reading.
Bake them into your loaf of bread: Walnuts baked into a hearty loaf of homemade bread brings a wonderful textural contrast as well as great flavor. The next time you bake bread, knead some walnuts into your dough.
Top panna cotta with chopped walnuts and honey: I wasn't convinced that this was going to be complex enough, but the flavors of the walnut and honey with the creamy vanilla panna cotta were a nice foil of textures together.
Just roast them: One of the standout things we tried was a simple dish consisting of walnuts oven-roasted with butter, salt, and pepper at 350°F until warm and lightly browned.
How do you cook with walnuts?